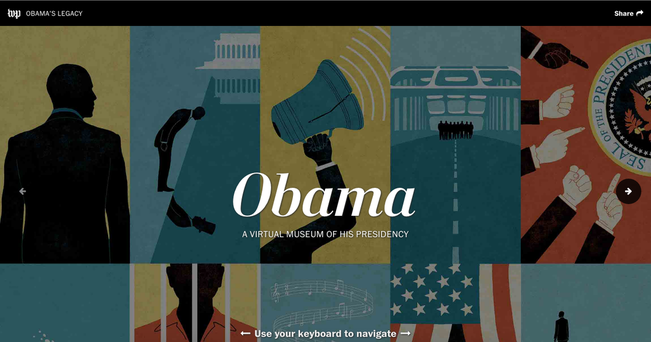 The legacy of Arthur Ashe extends beyond his tennis accomplishments to encompass his work advocating for health issues, education, and human rights. However, his success in overcoming the color barrier in tennis, along with Althea Gibson before him, still stands as one of his most important achievements.
Despite being characterized by many historians, politicians, and political analysts as a tumultuous but restorative presidency, it still remains to be seen what the precise components of President Barack Obama's legacy will be. His signature accomplishments, from Obamacare to economic recovery, have undoubtedly changed the political landscape for the foreseeable future. But as with Ashe, regardless of the legacy that emerges with regard to his policies, his position as the first black president of the county broke an important barrier and stands as a singular moment in our nation's history. 
Last week,
The Washington Post
released a virtual museum dedicated to recognizing key moments of President Obama's legacy. To be released in five installments of multimedia rooms over his remaining time in office, each room will address an aspect of Obama's presidency and his life in the White House. The rooms are titled "The First Black President," "Commander in Chief," "Obama and the World," "Obama's America," and "The First Family." Each will feature a variety of articles, videos, original images, and direct quotes from the president. 
You can view the first multimedia room from the
Obama Legacy
virtual museum
here
. 
---