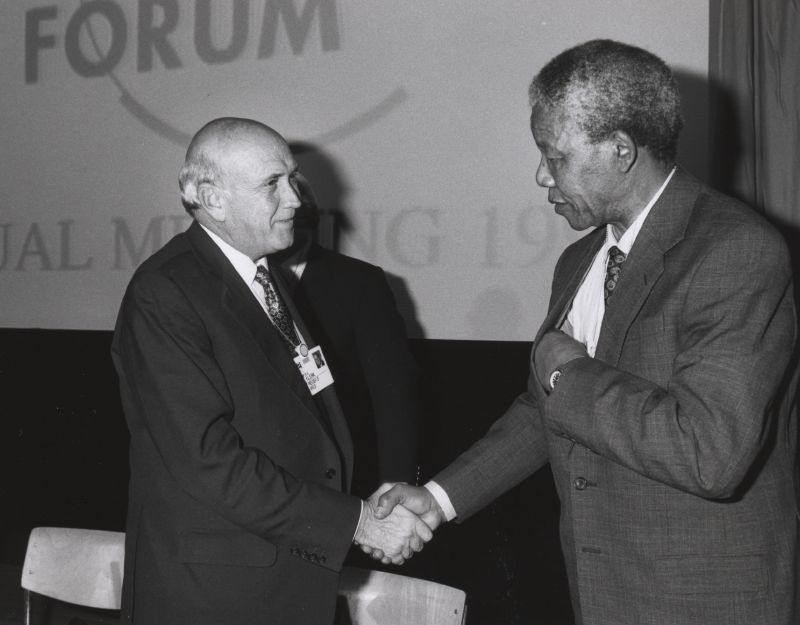 Frederik de Klerk & Nelson Mandela at the World Economic Forum Annual Meeting Davos 1992. © World Economic Forum
Twenty-two years ago today, South Africa and the world were forever changed when Nelson Mandela, revolutionary leader and former political prisoner, was elected as that country's first black chief executive. In doing so, the decades long policy of apartheid was rebuked and the country moved into a new era.
Prior to his election, Mandela had been serving a life sentence at Robben Island, Pollsmoor and Victor Verster prisons for his involvement in a conspiracy to overthrow the South African state government. He had served approximately twenty-seven years before his release was granted in 1990 amid growing international agitation and protest against the South African government. Following his release, Mandela commenced negotiations with then-President F W. de Klerk to abolish apartheid and establish open elections in 1994. 
The African National Congress (ANC), which had previously been a civil rights organization and was banned for many years under apartheid, thus began to campaign as a political party with Mandela as their candidate for president. The party campaigned with the slogan, "A better life for all" and put forth a Reconstruction and Development Programme platform, which promised to construct one million houses in five years, develop and introduce universal free education, and expand access to water and electricity. Mandela, in his capacity as candidate, extensively toured North America, Europe, and Asia in order to meet wealthy donors, and also met with prominent Afrikaner politicians at home in order to gain cross-party support. As the leaders of the two major political parties, de Klerk and Mandela participated in a mandatory debate and, although de Klerk was considered the better speaker, Mandela's graciousness and offer to shake de Klerk's hand at the end had many commentators giving the victory to Mandela. 
The general election of 1994 in South Africa was the first election held with universal adult suffrage, or voting rights extended to all citizens, and was conducted by the Independent Electoral Commission (IEC). Citizens waited in long lines during the voting period, which lasted three days, and cast a total of 19,726,579 votes, with approximately 193,081 of that amount being rejected as invalid. This constituted a voter turnout of 86%. The ANC received 62% of the vote and Nelson Mandela was elected President of South Africa by a wide margin. In his victory speech, Mandela spoke of apartheid as a disaster that had destroyed South Africa, saying:
                    "We saw our country tear itself apart in terrible conflict…The time for healing of wounds has come…Never,                            never again will this beautiful land experience the oppression of one by another."
Coincidentally, Nelson Mandela was quite a fan of Arthur Ashe. In his memoir Days of Grace, Ashe recounts an incident in New York City during a ticker-tape parade and town hall meeting at City College celebrating the end of apartheid in South Africa when:
​
                                  "I watched David [Dinkins, New York City mayor] go over to Mandela and whisper in his ear. I saw                                Nelson's head raise abruptly, and he broke into a beautiful smile.
                                  "Arthur is here?" he asked, with obvious surprise and delight.
                                  "He's right here," David said, turning to me.
                                  "Oh my brother," Nelson said, looking straight at me. "Come here!"
                                  He threw his arms around me and held me for a moment in a most affectionate embrace. He told me                         that in prison, he had read my three-volume work A Hard Road to Glory, about black American athletes."
 
Mandela and Ashe had in fact been fighting the same battle on different continents.  Ashe was outspoken opponent of apartheid, protesting the creation of new ATP tournaments in South Africa, and was a co-founder of Artists and Athletes Against Apartheid, an organization that raised awareness for apartheid policies and lobbied for sanctions and embargoes against the South African government.
 
Nelson Mandela will be remembered for his role in peacefully bringing an end to apartheid and bringing a country together, in working from a place of forgiveness to break down racial barriers. His ascendency to the presidency and his inclusive vision of the future forever changed the fabric of his nation.