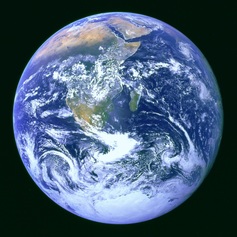 Today, we celebrate Earth Day, an annual celebration of our planet in recognition of all that it gives us. This year marks the 46th anniversary of this holiday, and the Earth Day Network, the primary organizer of this event, is releasing their goals and initiatives for the next four years as Earth Day slowly approaches its half-century mark.
The initiative for 2016: "Trees for the Earth." One of the most ambitious goals yet, the EDN is setting out to plant 7.8 billion trees in an effort to make a significant and recognizable impact on our plant. This initiative is one of many large-scale initiatives that EDN plans to unveil in the lead-up to 2020 and the fifty-year mark. 
You might be thinking: why trees? That sounds like such a simple solution to an infinitely complex issue. Well, trees—and the planting of many—can help to alleviate some of the major pollution and health issues that we face. They are helpful in combating climate change by absorbing excess carbon dioxide, help us breathe clean air by absorbing pollutant gases, and even revitalize communities by helping to achieve long-term environmental and economic sustainability and provide a source of energy, income, and food supply. 
Earth Day was first conceptualized in 1970 following the release of
Silent Spring
, a groundbreaking text by marine biologist and conservationist Rachel Carson. The book sold more than half a million copies in 24 countries and began a worldwide movement for environmental protection, reduced pollution, and public health. Later on, Gaylord Nelson, a then U.S. Senator from Wisconsin, realized that he could fuse the student energy surrounding the ant-war movement with the growing public consciousness about pollution and environmental protection. He pitched the idea as a "national teach-in on the environment" and was able to gain bipartisan support for his initiative. April 22nd was selected as the date, as it fell between the spring break and final exam periods for most universities—the preliminary target audience for this movement. 
On April 22, 1970, approximately 70 million Americans gathered across America to voice their support for a healthy, sustainable environment. Since the first year, Earth Day has lead to the creation of the United States Environmental Protection Agency, as well as the passage of multiple environmental acts, such as the Clean Air, Clean Water, and Endangered Species Acts. Today, Earth Day is the largest secular observance in the world, with billions of people around the world working to create sustainable and significant change in order to preserve and protect the planet we call home. 
You too can get involved in Earth Day! Visit the Earth Day website
here
to find and participate in local initiatives, as well as learn more about global initiatives. 
---