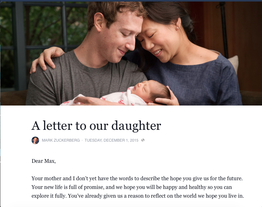 ​Social responsibility: it is an important idea that emphasizes the necessity of both the individual and organization to act for the benefit of society at large. There exist several different forms of social responsibility, from student and professional to corporate. And just last week, the term emerged as a major headline in the media.
 
Mark Zuckerberg, CEO and founder of Facebook, and his wife Priscilla Chan, published an open letter to their newborn daughter on the social media website announcing their intention to donate 99% of their net worth in their lifetime toward philanthropic or beneficial endeavors. This adds up to approximately $45 billion dollars using the current share price of Facebook's stock.
 
However, it's not just the amount of money donated that caught the world's attention. Rather, it was the vehicle by which Chan and Zuckerberg planned to invest: a limited liability company.
 
A limited liability company, often referred to as an LLC, is a US-specific private limited company that combines the taxation characteristics of a sole proprietorship or partnership with the limited liability characteristic of a corporation. In the context of the Chan-Zuckerberg initiative, it allows them to have greater control over what happens with the estimated $45 billion donation, but also allows them to experience the tax benefits of an LLC.
 
This decision has received some pushback from both members of both the tech and media communities, which argue that this decision is not exactly in the nature of charitable donation. On the other hand, it is hard to argue with the greater scope of action they will have as opposed to the model of the charitable trust.  Under the LLC model, they will be allowed to make for-profit investments—which can allow them to both donate money and invest in those organizations that can help the world. According to the Securities and Exchange Commission filing they made as part of the announcement, they promised to not donate in excess of $1 billion each year, planning to retain control of Facebook for the foreseeable future. 
 
This isn't the first example of establishing an LLC devoted to social good. Laurene Powell Jobs, the widow of Apple co-founder Steve Jobs, established an LLC called the Emerson Collective, devoted to finding innovative solutions for education and immigration reform. Additionally, as an LLC they can make contributions affecting politicians and political policy, much of which is strictly restricted for traditional 501(c)(3) organizations. Besides its structure, the existing charitable fund most similar in nature to the Chan-Zuckerberg initiative is the Bill and Melinda Gates Foundation, which Bill and Melinda Gates founded towards the end of his tenure as Microsoft CEO.
 
This conversation about Chan and Zuckerberg's newly formed LLC can be parlayed into a discussion about the current culture of giving or charity. Previously, the act of giving was simple—an individual or organization chose to donate a sum of money to a particular organization or initiative without any motive or agenda. But the idea of social responsibility is now a more complex, systematic idea that is built into the bottom line of businesses and society, wherein these enterprises and individuals are expected both by society and the government to further a chosen social cause in some way with measurable results. This detracts, to some extent, from the genuine motivation that should exist behind charity. Nonetheless, there is still good being done, which makes it difficult to address the current state of social responsibility.
 
What do you think about the idea of social responsibility, the current state of charity, or the Chan-Zuckerberg Intiative? Feel free to comment below and start a discussion. 
---