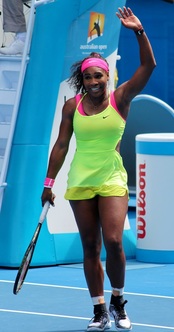 Australian Open 2015 – Wikicommons
This morning, world and American number one Serena Williams was named Sports Illustrated Magazine's 2015 Sportsperson of the Year. The award comes as recognition of her utterly impeccable win-loss record this past season of 53-3 and the achievement of her second overall 'Serena Slam'. She is the first woman to be presented with this honor since 1983 and the fourth tennis player to receive the award since its inception alongside Arthur Ashe, Chris Evert, and Billie Jean King.
At 34 years old, Serena Williams is not only the greatest tennis player of her generation, but an all-time great. Williams has experienced success throughout her entire career, but never as sustained as now—she held the number one ranking throughout the entirety of the year and won the season's first three grand slams—the Australian Open, Roland Garros, and Wimbledon—to bring her slam count to 21. Following what she considered an immensely disappointing loss during the semi-finals of the US Open, Williams decided to sit-out the rest of the season in order to focus on her health and mind. 
"I'm a fierce competitor and I want to compete as well as I can, for as long as I can," she said in a statement addressing her decision in early September. "This is a very difficult decision, but one ultimately made because of the love of the game."
Not only is Serena Williams an incredible athlete and competitor, but she also utilizes her platform to advocate for a variety of issues, from racial justice, access to education, and gender equality. A notable highlight from her 2015 season on this front was her return to the Indian Wells tournament, where she was booed off the court in 2001 with an onslaught of racial slurs. Her emotional decision to return to the tournament is illustrative of her strength as both a human being and an athlete, and this time, she was met with incredible warmth and a barrage of cheers. 
Williams thanked SI for the award in a statement, saying that she is grateful to have her hard work and dedication recognized, and that this award only fuels her motivation to return to the game in 2016 better than ever. 
---