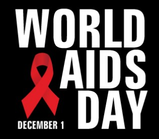 This past Tuesday, December 1st, marked the recognition of World AIDS Day. Designated on this date in 1988, World AIDS Day is dedicated to raising awareness about the AIDS virus and HIV infection. While this day is an important day of remembrance for many around the world who have lost their lives to the disease, it also serves as a day of education with the United Nations, universities, and governments around the world running informative campaigns about AIDS, methods of infection prevention and control.
President Obama, at a press conference the day before, discussed the White House's achievements in its efforts to more effectively respond to the AIDS/HIV epidemic. Because of the President's Emergency Plan for AIDS Relief (PEPFAR) approximately one million children have been born free of HIV and 6.7 million people are undergoing lifesaving anti-retroviral treatment. Additionally, approximately 4.7 million voluntary medical male circumcisions (VMMC) were supported by PEPFAR, with almost four million of that number occurring in the past four years. Clinical trials show that the VMMC procedure can reduce a man's risk of contracting HIV from a female partner by approximately 60%. In Sub-Saharan Africa, this life-long preventative technique will help prevent many HIV infections.
This is demonstrative of the incredible strides that have occurred over the last decade toward eradicating the disease. Similarly to PEPFAR, The Global Fund is a partnership organization between the private sector, governments, civil society and patients founded in 2002 to support research for cures for AIDS, tuberculosis, malaria, and other epidemics. The latest UNAIDS data shows that, in sub-Saharan Africa, the number of AIDS-related deaths fell 32% between 2005 and 2012, and the number of new HIV infections fell approximately 39% from 2001 to 2012. On Monday, President Obama also pledged to donate an additional $100 million to the newly developed HIV Cure Initiative at the National Institutes of Health in order to accelerate research and lay the groundwork for an AIDS-free future, with the hope of finding a sustainable, "fastrack" cure by 2030.  Another important development is Truvada, a drug developed by pharmaceutical company Gilead Sciences, which was approved in 2012 for high risk populations to help prevent contracting HIV. In 2015 after a study in San Francisco, the drug was found to be 100% effective, with all 657 male participants remaining HIV-free.
Arthur Ashe, who contracted HIV in 1983 from a blood transfusion, founded the Arthur Ashe Foundation for the Defeat of AIDS in the last year of his life, which was devoted to raising money for research into treating, curing, and preventing AIDS with the goal of eliminating the disease altogether. In 1992, he spoke in front of the U.N. General Assembly on World AIDS Day, encouraging the delegates to increase funding for AIDS research and push the AIDS epidemic as a global issue.
In the past decades, AIDS has become an important issue of global focus and the international community has responded. Eradication has become the primary and foreseeable goal. But finding the cure is not the only element of the equation—we also need to make sure any solution that emerges is accessible and provided to all who require treatment. We have come far in our fight against AIDS, but we still have more to go. 
---