Remembering Jane Bolin, First Black Female Judge in US History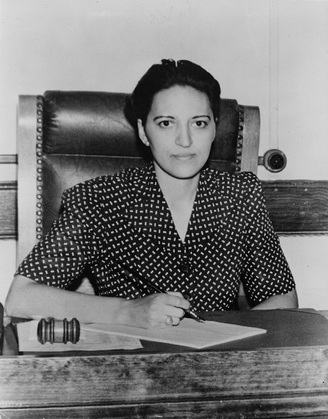 ©US Office of War Information, Jane Bolin (1942)
76 years ago on July 22nd, New York Mayor Fiorello La Guardia appointed 31-year-old Jane Matilda Bolin to be Judge of the Domestic Relations Court. In doing so, she made history by becoming the first African-American female judge in the United States. 
Born in Poughkeepsie, New York on April 11, 1908, Jane Bolin was an outstanding student, graduating from high school at only 15 years of age. Matriculating at Wellesley College in Massachusetts, Bolin was brutally ostracized and ridiculed by the student body despite her academic excellence. As a result of blatant racism and social isolation, she and the only other black student decided to move off campus and live together. In a later interview with the Poughkeepsie Journal she described most of her days at Wellesley as "sad and lonely." However, the lack of respect and support from her school did not stop Bolin from excelling in her studies. Bolin graduated with a Bachelor of Arts degree in 1928 as one of the top students of her class and was officially recognized as a "Wellesley Scholar."
Having been exposed to the plight of black people while growing up, Bolin was determined to pursue a career in law. Yet, a career advisor at Wellesley hardly encouraged her pursuit of a legal profession due to her race and gender. Even her father Gaius Charles Bolin, who practiced law, tried to dissuade her from developing her aspiration as a way of protecting her from further prejudice.
For all this, however, Bolin ardently believed that in the field of law she would be able to achieve great advances for the black community. She successfully enrolled in Yale Law School and became the first African-American woman to earn a law degree from the institution as well as becoming the first to pass the New York state bar examination in 1932.
After she became a judge in New York City, Bolin served on the Family Court bench for four decades. Bolin devoted herself and her passion for law to advocating specifically for civil service and civil rights, children's rights and education. She served on the boards of the NAACP, the Child Welfare League, and the National Urban League.
After her retirement in 1979, Bolin worked as a consultant and volunteered as a reading instructor in New York City public school. She also served on the New York State Board of Regents. She died in Long Island City, Queens, New York, on January 8, 2007, at the age of 98.
---