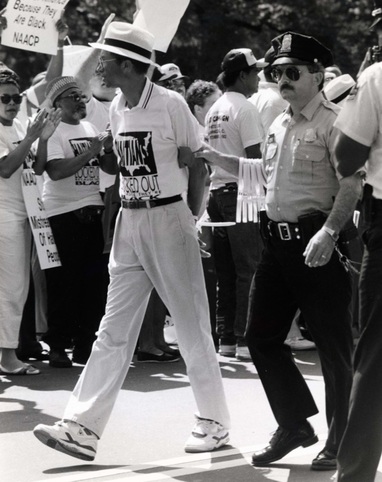 ©AALC, Arthur getting arrested in 1992 during a demonstration
Arthur Ashe dedicated his final years to the championship of great causes: from creating justice for African-Americans, to combatting AIDS, to crusading against racial discrimination. He vehemently opposed South African Apartheid and the treatment of Haitians seeking asylum in the U.S. 
In 1992, he was arrested during a demonstration against the U.S. policy on returning Haitian refugees to their homeland with 94 other protesters outside the White House. "
I think our policy of interdiction is ridiculous. That's why I'm here
," said Ashe during the protest. He was wearing a T-shirt, which read: "Haitians: Locked Out Because They're Black."
Now once again people of Haitian descent are facing deportation, this time in the Dominican Republic. The government of the Dominican Republic is enacting a policy to "
repatriate
" potentially hundreds of thousands of residents with Haitian heritage, after a controversial ruling from 2013 retroactively stripped them of Dominican citizenship unless they had at least one parent with "Dominican blood" or who was a legal resident.
There are an estimated 524,000 migrants living in Dominican Republic and the majority of them are from Haiti, Dominican Republic's economically depressed neighbor on the island of Hispaniola. The government states, and some Dominicans believe, that these migrants are a strain on the country's public services and are taking jobs from citizens.
Now that the deadline to register as foreign nationals with the Dominican government has passed, thousands of Haitians and people of Haitian descent who did not register are leaving the Dominican Republic for fear of expulsion.
The Dominican government says nearly 40,000 people had left as of July 6.
Additionally, the Dominican government has suggested that they will be conducting sweeps and mass expulsions, although those have not occurred yet.
In order to obtain legal residency, applicants were required to submit multiple documents of identification, demonstration of work history and financial solvency, and proof of their ties to Dominican society.
However, applications contained many hidden costs. Those who sought the regularization complained of difficulties such as a requirement to find seven neighbors to vouch they were living in the country before October 2011. Additionally, many people lacked or had difficulty obtaining even basic identification documents. For some, even once they had submitted all the forms they were told by the Dominican government that their paperwork was insufficient.
The complexity of the situation has been deteriorating relations between the two countries, as indicated by Haitian Prime Minister Evans Paul accusing the Dominican Republic of causing a "
humanitarian crisis
."
The Dominican government has been under international scrutiny in recent years for immigration policies that adversely affect Haitians and people of Haitian descent. Despite the criticisms against their motivations, Dominican officials have vowed to move forward by resuming deportations.  
---