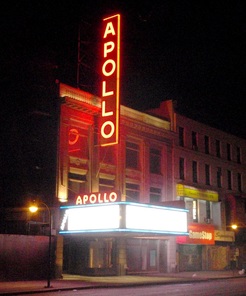 ©Hans Joachim Dudeck via WikiCommons
"….the Apollo probably exerted a greater influence upon popular culture than any other entertainment venue in the world. For blacks it was the most important cultural institution–not just the greatest black theatre, but a special place to come of age emotionally, professionally, socially, and politically."Ted Fox, "Showtime at the Apollo"
There are many examples of the African American experience that have greatly influenced culture, from the Selma march to New Orleans Jazz to historic moments in sports. As one of the longstanding institutions of African American history, the Apollo Theater solidified its place by greatly influencing entertainment and culture.

The theater itself was originally known as Hurtig & Seamon's New Burlesque Theater in 1914. At the time it was a whites only institution, in terms of patrons and performers. In 1933, Congressman and future New York City Mayor Fiorello LaGuardia began a campaign to ban burlesque and the theater was shut down. Shortly after Sidney S. Cohen took the lease and renamed it the Apollo after the Greek god of music.  It reopened its doors catering to the surrounding African American community sparked by the Harlem Renaissance. The Apollo would become the first theater to allow Black people to perform in a segregated nation and one of the few institutions where Black music culture was nurtured early on.
One of the grand traditions of the Apollo is its infamous Amateur Night, which debuted in its opening year. A long-standing weekly talent competition is has brought many talented artists to the world's attention for the first time. According to the Apollo's site, Amateur Night "marries world-class talent with a distinctive, vaudeville-like atmosphere, and has depended on audience participation since the very beginning. The popularity contest has proven an effective measure of star potential, becoming a launch pad for some of the nation's greatest entertainers." Some of its famous alumni include Billie Holiday, Count Basie, Lena Horne, Ella Fitzgerald, Stevie Wonder, Michael Jackson, James Brown, and Lauryn Hill.

As an influential figure in Harlem, the Apollo was granted state and city landmark status in 1983. The Apollo Theater is now run as a not-for-profit organization called the Apollo Theater Foundation, Inc. It was established in 1991 and is dedicated to the preservation and development of the legendary Apollo Theater through the Apollo Experience of world-class live performances and education programs.

The Apollo Theater is not just a historical venue that supported Black entertainment: it serves a hub of acceptance to those talented and determined to showcase their work. It is a symbol of community and a space for nurturing culture. It was a symbol of defiance to the close-minded, racist mainstream society. Above all, it stands as a pillar of hope for those with a dream. When given the chance to have your voice heard – great things are possible. 
---