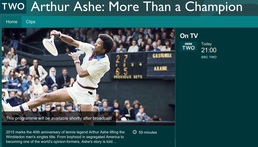 Competition is a driving force that inspires athletes to perform their best and we celebrate athletes for those accomplishments. But what makes an athlete impactful is how they take that status and use it to inspire others to live their best lives. They raise the bar in society, either questioning the status q
uo or serving as a example by helping others. Arthur did both. 
Arthur was known as a level-headed tennis player: someone who kept calm while pushing his opponents outside their comfort zones. That strategy was on display at Wimbledon in 1975 against Jimmy Connors. As the first and only black man to win the Wimbledon singles title, that great upset still inspires players on how to approach a match against significant odds. This summer will commemorate the 40th anniversary of this momentous win.
Ashe's contributions off the court also continue to serve as a source of inspiration for tennis players and others. He helped found the Association of Tennis Professionals (ATP) and eventually became its president. His civic work as an activist and advocate led the ATP to create the Arthur Ashe Humanitarian Award, which is awarded yearly to an ATP member who demonstrates a commitment to social or humanitarian concerns off the court.
In honor of his work, both civically and competitively, BBC is airing a documentary looking back at the legacy of Arthur Ashe. With remarks from some of the world's top ranked tennis players, including Serena Williams and Andy Murray, last year's recipient of the ATP Arthur Ashe Humanitarian Award, they examine what makes Arthur more than a champion.
"He was clearly a great man, I think, who stood up for what he believed in what was probably a difficult time," Murray states about Arthur. "I think all of the players have a lot of respect for what he did away from the court and what he did for tennis as well and its something a lot of the players will try to emulate."
'Arthur Ashe – More Than a Champion' airs today on BBC Two on Friday,  June 26 at 21:00 BST.

Watch Andy Murray's remarks on Arthur.
Read more about Arthur's Wimbledon victory and how strategy won the day.
---