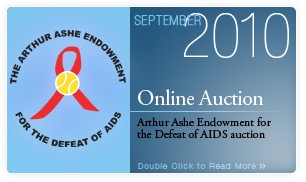 For 2011, starting Monday August 29, log on and register to bid in the AAEDA online auction…
Throughout the 2011 US Open the auction will be updated with new items and additional player autographs so we urge you to regularly log onto http://Endowment.ArthurAshe.org/
For the last 15 years the Arthur Ashe Endowment for the Defeat of AIDS (AAEDA) auction of tennis memorabilia has been only offered at the AAEDA booth on the grounds of the US Open. 2010 marks an exciting change as we launch the on-line expansion of the auction. Starting Monday August 23, log on at http://Endowment.ArthurAshe.org/ and register to bid in the AAEDA on line auction. Now all our friends and tennis collectors around the world can bid on memorabilia autographed by our favorite ATP and WTA Tour players while supporting the AAEDA.
Items offered in the 2010 auction include AAEDA T-shirts, caps and tennis balls signed by Roger Federer, Venus Williams, Rafael Nadal, Serena Williams, Andy Roddick, Maria Sharapova, Kim Clijsters, Andy Murray, Novak Djokovic as well as other top stars and tennis legends such as Billie Jean King, Andre Agassi, John McEnroe and Martina Navratilova. And remember, all auction proceeds go to benefit the AAEDA. Contributions to the AAEDA are tax-deductible to the extent allowed under the law.
Throughout the US Open the auction will be updated with new items and additional player autographs so we urge you to regularly log onto http://Endowment.ArthurAshe.org/ site. The AAEDA items are one of a kind and each auction item comes with a letter of authenticity. The ATP, WTA and former WTA player Leslie Allen reach out to players and each year top players graciously sign AAEDA merchandise and tennis balls for the AAEDA auction.
The Arthur Ashe Endowment for the Defeat of AIDS was established in 1995 at Cornell University Medical College (now the Weill Cornell Medical College) as the successor to the AIDS foundation that Arthur Ashe created in May of 1992. The Endowment's Directors, including Jeanne Moutoussamy-Ashe and Dr. Henry W. Murray, Arthur's physician, elected to continue the work that Arthur began in raising public awareness of the disease and inspiring the community to mobilize efforts against AIDS. The Endowment is focused on the three areas that Arthur felt were particularly important: education, training, and clinical treatment trials.
"We want to be able to look back and say to all concerned, that we did what we had to do, when we had to do it, and with all the resources required." ARTHUR ASHE
---