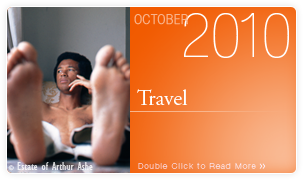 Arthur's love for travel began as a young boy when he discovered National Geographic magazine. Reading through those became the foundation for his desire to travel. It was tennis that gave him that opportunity.
When he began playing tournaments and Davis Cup as an amateur, he only received small stipends to cover expenses. But for him, the reward of playing AND winning during this period was travel.
Visiting countries all over the world is one of the privileges of being on the tennis tour. This month, we talk a little about the ATP and WTA tours. You will also find an interview with Arthur's colleague Cliff Richey about his time on the tour in the 60s, 70s and 80s, plus a review of Jan Kodes' new book that demonstrates how tennis can open up the world, particularly from behind the Iron Curtain. Starting this month and continuing thereafter, we will be featuring the NJTL Arthur Ashe Essay and Art Contest winners and their accomplished work. Lastly, we've created a special feature loaded with unseen photos that Arthur and friends took all over the world while they were on tour.
So enjoy the articles and photos, and hopefully—whether it's taking a road trip or flying across the globe—we hope you will be inspired to go see the world for yourself.
A favorite Goethe quote of Arthur's was, "Whatever you can do, or dream you can do, begin it. Boldness has genius, power, and magic in it."
Jeanne Moutoussamy-Ashe
Founder and Chairman
Arthur Ashe Learning Center
---