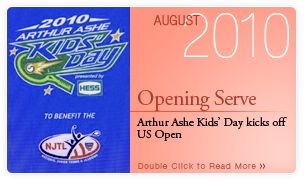 For the 17th consecutive year Arthur Ashe Kids' Day will start off the US Open at the USTA Billie Jean King National Tennis Center in Flushing Meadows, NY. The 2010 Kids' Day festivities will be hosted by Quddus and Adrienne Bailon and will include the Jonas Brothers, Demi Lovato, and David Archuleta along with Allstar Weekend, Alexis Jordan and School Gyrls, and appearances by Nick Cannon, Rafael Nadal, Roger Federer, Andy Roddick, Novak Djokovic and Kim Clijsters and many others. Proceeds from the event go toward the National Junior Tennis and Learning (NJTL) network, which was originally cofounded by Ashe in 1969.
Fun Facts:
•  In 1993, the first AAKD was called "Arthur Ashe AIDS Tennis Challenge" and included Bill Cosby, Pete Sampras, Andre Agassi, Steffi Graf, and John McEnroe, among others
•  Over the years, participating AAKD comedians and entertainers have included Alec Baldwin, Chevy Chase, Chris Kattan, Keenan & Kel, Alan King, Will Ferrell, Jennifer Love Hewitt and Rosie O'Donnell
•  In 2005 the United States Postal Service revealed the Arthur Ashe Commemorative Postal Stamp at Kids' Day
•  Popular singers to have performed at AAKD in the past include: Britney Spears, Jessica Simpson, Bow Wow, Ne-Yo, Justin Bieber, Rihanna, and Sean Kingston
•  Trained dogs were scheduled to jump over the center court net in 1999, but were canceled because their long nails scratched the court surface during rehearsal
Find out more about AAKD: http://www.usopen.org/kids/ArthurAsheKidsDay/. Be sure to catch Arthur Ashe Kids' Day airing on CBS Sunday, August 29th at 12 pm EST.
---