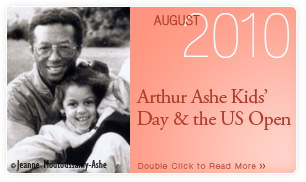 With the U.S. Open and Arthur Ashe Kids' Day, August is an exciting and busy month for all of us at ArthurAshe.org. This year marks the 42nd anniversary of Arthur's 1968 championship at the first US Open. As part of our August feature, we are fortunate to have a personal account of that victory written by sports writer Steve Flink. Arthur's victory in that tournament was the catalyst for him co-founding National Junior Tennis League (now National Junior Tennis and Learning network). Today, the NJTL benefits more than 200,000 kids through its programs around the country.
This year also marks the 17th anniversary of Arthur Ashe Kids' Day. Since the inaugural Kids' Day, in 17 years it has never been rained out! It's wonderful to start this country's biggest tennis event with a celebration that is geared entirely toward children and families.
For me, the importance of Kids' Day is how it helps youth better understand Arthur as a human being: an athlete, an activist and a father. One of the most enjoyable events of the day is joining Mayor David Dinkins in honoring the winners of the NJTL Arthur Ashe Essay Contest. It is always great to meet them, see their excitement and read their thoughtful comments about the life and legacy of Arthur. Aside from the 25,000 kids expected to attend this years Kids' Day, the event will also benefit kids nationwide as proceeds from Kids' Day go toward NJTL programs.
You can learn more about Arthur Ashe Kids' Days by reading our article as well as our Q&A with Nick Cannon, who will make a guest appearance at this year's event. This month we also take a look at Venus Williams' new book, Come to Win and cover the upcoming Singapore Youth Olympic Games. We hope you enjoy our August features.
Be sure to catch Arthur Ashe Kids' Day airing on CBS Sunday, August 29th at 12 pm EST.
Jeanne Moutoussamy-Ashe
Founder & Chairman
Arthur Ashe Learning Center
---