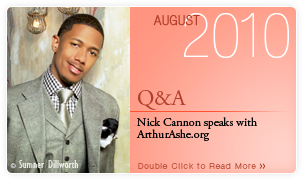 Nick Cannon is a multitalented actor, musician, radio personality, TV host, executive producer and entrepreneur, and is currently hosting America's Got Talent, airing on Tuesdays and Wednesdays on NBC. He is also the Chairman of TeenNick, a new television channel from Nickelodeon aimed at teen audiences. Nick will be appearing at the 2010 Arthur Ashe Kids' Day to present his new group, the School Gyrls. We caught up with Nick to talk about Kids' Day, role models and some of the projects he is involved with:
Is this your first Arthur Ashe Kids' Day? What are you most looking forward to? Yes, I'm looking forward to seeing everyone enjoying themselves and spending time with the young kids.
Speaking of kids, Arthur Ashe stressed the importance of role models and creating a positive legacy for young people to follow. Who were your role models growing up? Aside from Arthur Ashe himself, I really admire Quincy Jones, Harry Belafonte, and Bill Cosby. I hope that my work with TeenNick and with organizations like Big Brothers Big Sisters, the Brignoni Foundation for Pregnant Teens and The Brightest Star can help inspire and empower young people in the same way.
Do you follow tennis? Who is your favorite tennis player? Yes, my favorite player is Serena Williams.
As a host, producer and entrepreneur you're involved with a number of projects including TV shows, music and films. What made you decide to expand beyond a performance-centered career to a more entrepreneurial career? I wanted to be involved in the corporate executive world and since I have such a long history with Nickelodeon, I knew it would be a perfect place to reach out to the youth and empower young people at the same time.
You started your career when you were pretty young. Now that you're managing other young artists, like the School Gyrls, do you give them advice to help them succeed and handle the pressures? Yes, I teach them to keep their eyes on the prize. Always stay focused and not get sidetracked. I constantly tell them that "pressure builds character" and "hurdles were made to jump." No matter what, keep going while giving nothing less than your best.
Be sure to catch Nick and other guests at Arthur Ashe Kids' Day airing on CBS Sunday, August 29th at 12 pm EST.
---