Solia Valentine Named Third Arthur Ashe Jr. Scholar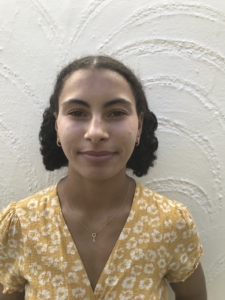 Solia Valentine, a sophomore majoring in computational and systems biology, has been awarded the third annual Arthur Asher Jr. Scholarship.
The scholarship recognizes and supports students who exemplify the attributes, values, commitment to service and pioneering spirit of the legendary Arthur Ashe '66.
In her first year at UCLA, Valentine became involved in Students Heightening Academic Performance through Education (SHAPE @ UCLA), a project run by the Afrikan Student Union. SHAPE provides academic mentorship, peer advising, and leadership development for high school students in underserved communities in Los Angeles to guide them on a path to college.
Valentine also mentors and coaches kids in her hometown of Berkeley, Calif. at Aztec Tennis Camp. She started playing tennis at age four and, after growing up on the tennis court, has experienced the life lessons that tennis teaches, especially personal responsibility.
"You have only yourself to attribute your wins or losses and your failures and successes. Because it's a solo sport you really have to motivate yourself so you have to be willing to put the work in," she said. "I like being able to depend on myself, and I think it's really translated into a lot of other parts of my life."
Valentine said Ashe's de-stigmatization of AIDS was inspiring, and she admires how he broke barriers to become the first and only black man to win the singles title at Wimbledon, the U.S. Open and the Australian Open.
"He wasn't afraid to go against the norm or speak out when he felt like something needed to be said," Valentine said. "He is the definition of what I look for and idolize in terms of assertiveness."
With the support of the Arthur Ashe Jr. Scholarship, Valentine said she hopes she can work toward making the world a better place. In her future career as a software engineer, she wants to help increase access to STEM fields for marginalized communities of color and women, and break down exclusivity and stereotypes associated with STEM careers.
"The scholarship has combated my imposter syndrome and helped me feel like I belong and I know what I'm doing and I'm on the right path," she said.