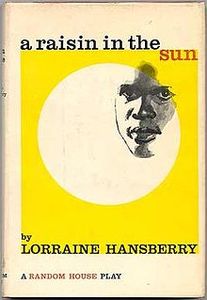 ​Today is the birthday of playwright and writer Lorraine Hansberry, born on May 19, 1932. She is most famous for her celebrated work A Raisin in the Sun, a play about black Chicagoans.  Hansberry herself grew up in Chicago, IL the child of real estate agent Carl Hansberry and his wife Nannie, a schoolteacher. Prior to her birth, her parents bought a house in an all-white subdivision called Washington Park. The neighbors challenged the Hansberrys' right to live there because there had been a restrictive covenant in place barring blacks from purchasing or renting homes in the neighborhood. The confrontation reached the Supreme Court in the form of Hainsberry v. Lee (1940) where the justices ruled the restrictive covenant was contestable, ignoring the issue of whether it was inherently valid or not. 
 
The Hansberry family was very involved with politics and civil rights causes, which were important values for Lorraine as well, shaping much of her life and work. They were members of the NAACP, the Urban League and the Chicago Republican Party. Their house was also visited by black intellectuals, such as W.E.B. DuBois and Paul Robeson. Additionally, Carl's brother was a professor who founded the African Civilization section in the history department at Howard University. Carl passed away in 1946, when Lorraine was only 15 years old. After her schooling in Chicago, she attended University of Wisconsin-Madison where she integrated a dormitory. However, she switched schools, moving to New York to attend The New School.
 
In New York, she began working for the black newspaper Freedom in 1951, reporting on the civil rights movement and the global struggle against colonialism while paying particular attention to women's issues and perspectives. In 1953 she married Robert Nemiroff, a songwriter, actor, director and producer (better known as Robert Barron) and moved from Harlem to Greenwich Village with him.
 
A Raisin in the Sun opened on March 11, 1959 becoming the first play on Broadway written by a black woman. It was also the first play to have a black director. The New York Drama Critics' Circle named it the best play of 1959 and the following year it was nominated for four Tony awards, including Best Play. Much of A Raisin in the Sun is drawn from her own experiences as it features a black family moving into the all-white Washington Park Subdivision in Chicago. Over time, Raisin has proved to be a cultural touchstone, consistently being performed since it first opened, including two Broadway revivals that won multiple Tony Awards, in addition to a movie, television movie and a musical. It has been translated into 35 languages and produced across the globe.
 
Hansberry was diagnosed with pancreatic cancer in 1963 and she and Nemiroff divorced in 1962, although they continued to work together. While she produced many essays and articles, the only other play by her that was performed during her lifetime was The Sign in Sidney Brustein's Window. She died on that play's closing night, January 12, 1965 at 34 years old. During her funeral, messages were read from writer James Baldwin and Martin Luther King, Jr. A final play by her, Les Blancs was released posthumously, along with other works including To Be Young, Gifted and Black, which was a play adapted from other writings.
---