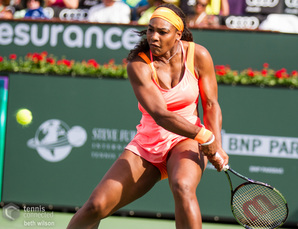 Photo by Beth Wilson for Tennis Connected via Flickr
​It was an eventful Indian Wells tournament for a variety of reasons: Serena Williams returned to the finals for the first time since her controversial 2001 final against Kim Clijsters; Novak Djokovic claimed his fifth Indian Wells, tying Rafael Nadal for the most ATP 1000 Masters titles. But what made headlines on the last day of the tournament had little to do with tennis—rather, it had more to do with gender.
 
Raymond Moore, the CEO and tournament director of the BNP Paribas Open in Indian Wells, came under fire for comments he made during his annual state of the tournament address, in which he said that women's professional tennis players should "go down on their knees every night and thank God that Roger Federer and Rafa Nadal were born, because they have carried this sport." He went on to say that in his "next life" he would like to return as someone in Women's Tennis Association, remarking, "they don't make any decisions and they are lucky."
 
His remarks, of course, have been met with extreme backlash and anger. Serena Williams, who lost in the final to Victoria Azarenka, called Moore's comments a disservice to both to Billie Jean King, who "opened doors for not only women's players but women athletes in general," and to all women in general. King herself took to Twitter to express disappointment about Moore's comments, emphasizing that it is the success of all players—regardless of gender—that pushes the sport forward.
 
While these comments are insensitive and unacceptable, it does reveal the equality battle that seems to be continually raging within sports, and specifically tennis. For example, the discussion about equal pay for both men and women has been the talk of the tour for quite a while now, especially concerning Grand Slams. In normal tour events, women and men play "best-of-three sets" format matches. However, the difference occurs in the majors, where the men compete in "best-of-five set" matches.
 
Although some top players, like Roger Federer, have kept quiet as to their opinions, others, like French tennis player Gilles Simon at the 2012 Wimbledon Championships, have been vocal about the popularity and "show" of men's tennis over women's tennis, which in turn necessitates higher pay. A few female players, like British tennis player Heather Watson, agree that pay should be equal generally outside of the Grand Slams, as men and women play the same amount of sets, but that it's a tricky question within the context of the major tournaments.
 
"It is tough for the guys, especially at Wimbledon, because it's five sets," she said, also speaking at Wimbledon in 2012. "At all other tournaments it should be the same. We play the same amount of sets and have to work just as hard."
 
Raymond Moore, facing backlash from the media, the WTA, and the ATP, stepped down from his position as C.E.O and tournament director earlier today.
 
Equal pay is, of course, only a single dimension in the battle for equality. Many unfair misconceptions and underestimations about the intelligence and ability of women still exist throughout the world. And while society continues to make strides toward eradicating these erroneous viewpoints, comments like Moore's, among others, push us back into the past.  
---