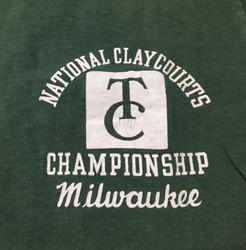 Detail of the graphic on Teasley's ball boy shirt
​Today we feature Paul Teasley's memories of meeting Arthur Ashe and watching him and others play during the 1967 U.S. Clay Court Championships in Milwaukee, Wisconsin. Teasley served as a ball boy during both the semi-finals and finals matches that Ashe played:
 
The Clay Court Championships took place at the Town Club, where my family were members. It was not a huge Grand Slam or anything, and if you Google where it is located the area is really residential. So it was really a privilege to have all these tennis stars coming to this somewhat suburban club. A number of the players stayed at the homes of members of the club. It was a neat thing for some of the members' families to have players staying with them. Also it humanized them, seeing that they are just like us.
 
Before the tournament, they reached out to the children of club members to see if they wanted to participate. I went to the tryouts. Subsequently through the tournament, the better you did, the more chances you had to do matches. We were paid 50 cents a match, no matter the round. I was fortunate enough to be a net ball boy for the semi-final and final.
 
It was so much fun to do this, because so many of the people there were really nice. I was really fortunate to see that caliber of player up close— Cliff and Nancy Richey, Marty Riessen, Stan Smith—they were premiere, the very top. You'd go into the dining room and were served with them; sometimes players would even come sit with you. No egos, just men and women out there to play the best tennis they can and try to win the tournament.
 
Arthur in particular was so genuine and, because he was an amateur playing against pros, was one of my favorite players. I also really liked Riessen and Tom Okker. Most of the players were gracious, but Arthur was really appreciative and would say things to the ball boys. At the net, you were right there when they'd sit down between games and get them water, towels. He would really be thankful that you helped him. He was by far the most caring individual toward these kids who had a job to do to make the players play better. He was also a gentleman to the linesman, umpires: he never questioned or was rude and was always gracious. Some players would barely shake hands (especially if they lost), but he would thank everyone and shake hands.
 
I remember that in one of the matches, Arthur slipped. And since he was wearing a pristine white outfit, he got green clay all over his back. I immediately grabbed a towel and tried to wipe off his racquet and then brush his back off, then gave him the towel. He immediately thanked me. I was just reacting, thinking this was something to do. Once they switched sides, he thanked me again for helping out. I was only 11 years old at the time so it was really impactful having someone who didn't have to pay attention to you do so, it really meant a lot.
 
During the match even as a ball boy, you do root for one player or another. You still have your favorites. It was a lengthy match, went to tiebreaker at the end. So I was thinking, "C'mon Arthur, beat this guy." His final was very exciting. He lost the first set to Riessen, then comes back to take it over, then it got close again at the end. So it was pretty thrilling.
 
I had the feeling after the match that he was more than just a good player. In the semis, Arthur left a wristband on the stand when he changed one out and after he didn't pick it up, I took it as a great souvenir. There were other wristbands and tennis balls leftover that I could have grabbed from other players, but I felt something about Arthur, something special about who he was. I kept the shirt and wristband as memorabilia thinking he was gonna go somewhere…this is before he had won a lot of big tournaments.
 
When I got older, seeing him win Wimbledon, I continued to be enamored with his play. I would let friends know I ball boy-ed for him and told my story. And then even later on, it was so great when he left tennis to see him help people better themselves, he was a really decent human being. He acknowledged how someone had helped him and given him opportunities and he made sure to pay it forward and give opportunities to others.
---