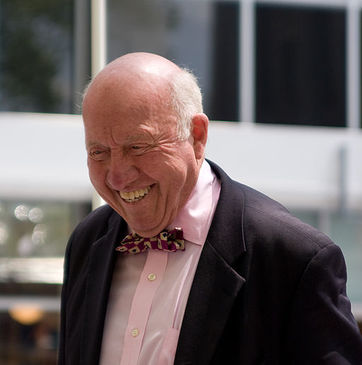 © Jhoetzl at en.wikipedia
On Friday, March 4, Bud Collins, a beloved figure in tennis, passed away at the age of 86. Known for his eccentric sense of style and passionate tennis reporting, Collins was an asset and advocate for the sport.
 
Arthur "Bud" Collins was born on June 17, 1929 in Lima, Ohio, and graduated from Baldwin-Wallace College and Boston University. He briefly held the position of head tennis coach for Brandeis University and then worked at the Boston Herald before beginning his journalism career as a writer for the Boston Globe in 1963. Self-described as a "scribbler and a babbler," Collins was known for his distinctive writing style, employing colorful language in his description of athletes and inclusion of art and history metaphors. He also created memorable monikers for some of the game's greatest—from "Sisters Sledgehammer" for Venus and Serena Williams, to "Fraulein Forehand" for Steffi Graf.
 
Collins also authored numerous books on the sport, such as the famous Bud Collins' Tennis Encyclopedia and The Education of a Tennis Player with Rod Laver. He received the prestigious Red Smith Award for Sports Journalism from The Associated Press Sports Editors in 1999 and was inducted in to the International Tennis Hall of Fame in 1994. He also covered baseball and boxing, though not as often and with as much intensity as he spoke about tennis. He is honored annually with the Bud Collins Award, given out by the International Tennis Writer's Association in recognition of assistance to the media. More recently, the United States Tennis Association honored him by renaming the US Open tournament's pressroom the "Bud Collins U.S. Open Media Center."
 
There was an outpouring of love for America's favorite tennis personality when the news broke on Friday, with players such as Martina Navratilova and Chris Evert sending statements via Twitter to remember their friend. He is survived by his wife, photographer Anita Ruthling Klaussen.
 
Bud Collins helped bring tennis to the forefront in American sports writing with his infectious personality and unique eye for the game. He will be cherished for his role as an ambassador for the sport for years to come.
---