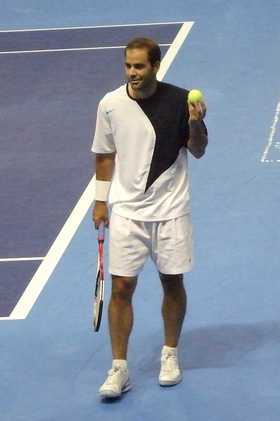 ©Levg, Pete Sampras at Champions Cup Boston in 2007
Pete Sampras, born on this day in 1971, is a retired American professional tennis player who was formerly ranked world no. 1 and is widely considered one of the greatest players of all time. Tennis purists loved his precise serve, which had him earn the nicknames "the King of Swing" and "Pistol Pete." 
Sampras showed his exceptional athletic ability and potential to be a tennis legend at an early age. Sampras first began playing tennis at the age of seven and reached the upper echelon of the American junior circuit. After his debut on the professional tour in 1988 at the age of 16, Sampras dominated the sport for most of the 1990s. He earned 15 Grand Slam singles titles in total. He is also a seven-time Wimbledon champion and a five-time U.S. Open winner. He was ranked the world no. 1 for a total of 286 weeks and still holds the ATP record of year-end no. 1 rankings with six consecutive years from 1993 through 1998.
Sampras finished his career at the 2002 U.S. Open where he defeated rival Andre Agassi in the final. He said farewell at a special ceremony organized for him at the 2003 U.S. Open.


However, the King of Swing has never lost his passion for tennis. In 2007, four years after his official retirement, Sampras was inducted into the International Tennis Hall of Fame. He also resurfaced in a series of games, winning his first title on the ATP Champions Tour in 2008. He also published his autobiography, "A Champion's Mind: Lessons from a Life in Tennis" that year. 


---