Happy Birthday to Roger Federer, One of the Greatest Tennis Players of All Time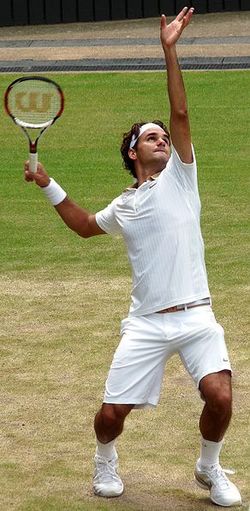 ©Squeaky Knees, Roger Federer (June 26th, 2009 at Wimbledon)
Roger Federer, born on this day in 1981, is a Swiss professional tennis player who is currently ranked world no. 2 by the Association of Tennis Professionals. Federer is regarded as "the greatest player of all time" by many commentators and fellow tennis players.
In 2003, Federer won his first Grand Slam singles title at Wimbledon. During 2004, he won three Grand Slam singles titles for the first time in his career. He earned the first one at the Australian Open over Marat Safin, thereby becoming the world no. 1 for the first time in his career. He then won his second Wimbledon crown over Andy Roddick. He also defeated the 2001 US Open champion, Lleyton Hewitt, at the US open for his first title there.
The 2006 season was by far Federer's best as well as one of the greatest seasons of any player in tennis history. Federer won 12 singles titles with a match record of 92-5. He reached the finals in an astonishing 16 of the 17 tournaments he entered during the season.
Despite his glorious achievements, Federer has experienced several illnesses – mononucleosis which started during the first half 2008 and a back injury that has continued to agonize him.
However, Federer has neither been subdued nor let his physical pain hamper his career. In 2009, Federer won two Grand Slam singles titles, the French Open over Robin Söderling, and Wimbledon over Andy Roddick. Upon breaking the Grand Slam record by prevailing 16-14 in a thrilling 5th set, Federer was hailed as the greatest player in tennis history.

Federer announced in 2012 that he would play full time on tour at least until the 2016 Olympic Games in Rio de Janeiro, a decision that faced skepticism given his dwindling titles in recent years. He had just won his 17th major at the 2012 Wimbledon championships, his first major in two and a half years.
Although some view his losses as an ominous indication of his retirement, he firmly cemented his position as no. 2 in the world by making it to the Wimbledon final. In response to many a fan of his who have not lowered their expectations, Federer is vigorously living his dreams with breathtaking ambition and astounding professionalism.

---