UCLA Tennis Teams Honored For Academic Excellence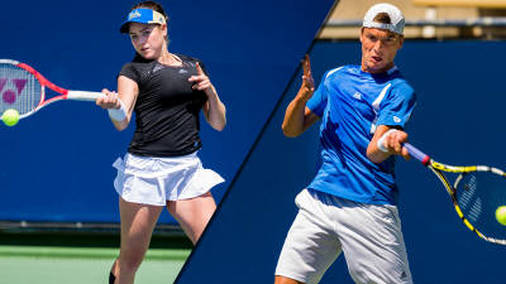 Courtesy © UCLA Athletics, ITA Scholar-Athletes Kyle McPhillips (left) & Martin Redlikci (Photos: Scott Chandler)
From childhood on, Arthur Ashe was always into books. Similarly to sports, books were a safe haven that prevented him from becoming too withdrawn as a six-year-old after his mother's death. Arthur was an avid reader and learner who could "hardly wait to get up in the morning to go to school."
Upon graduating as valedictorian of his high school class in St. Louis, Arthur was awarded a full athletic scholarship to attend the University of California, Los Angeles in 1963. As UCLA describes, Ashe personified the ideal of the student athlete during his time there. Not only did he maintain good grades, but he was also actively involved in campus life, joining the Upsilon chapter of the Kappa Alpha Psi Fraternity. Arthur brought pride to his family by becoming the first on his paternal side to graduate college.
Continuing Arthur's legacy, the UCLA men's and women's tennis teams were honored for their academic excellence by the Intercollegiate Tennis Association (ITA) recently. The women's team was one of 117 Division 1 teams in the nation with a cumulative team grade point average over 3.2 for the 2014-15 season. The men's team also met the criteria, joining 68 other Division I men's teams with at least a 3.2 team GPA.
Additionally, both teams have players who have been honored as ITA Scholar-Athletes. For the women, Kaitlin Ray, Kyle McPhillips and Robin Anderson were selected. For the men, Dennis Mkrtchian, Mackenzie McDonald, Martin Redlikcki and Ryoto Tachi were named.
In order to earn ITA Scholar-Athlete status, a player must meet the following criteria: (1) be a varsity letter winner, (2) have a grade point average of at least 3.50 (on a 4.00 scale) for the current academic year, and (3) have been enrolled at their present school for at least 2 semesters (including freshman through senior year).