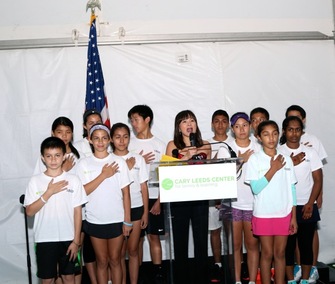 NYJTL participants, led by Director Fay Ann Lee, conduct the Pledge of Allegiance and National Anthem. © Ed Goldman
On June 15, New York Junior Tennis and Learning (NYJTL) celebrated the opening of the new Cary Leeds Center for Tennis & Learning in the Bronx, NY. This new flagship center features 20 tennis courts and a 12,000 square foot facility with locker rooms, a fitness center, a youth lounge, classrooms and a technology lab to fully address the organization's mission of promoting tennis and education. The increased number of courts and classrooms will allow for expanded programs both on and off the court, such as year-round free tennis instruction, SAT prep, tutoring and homework assistance as well as programs that teach life lessons emphasizing healthy living and the importance of good character. Additionally, the new club is named after tennis great and activist Billie Jean King. In attendance for the grand opening were Bronx Borough President Ruben Diaz Jr. and former Mayor David Dinkins.

NYJTL's programs already draw thousands of children from across the city at various sites and this new space is well situated to help them reach the 30,000 families in surrounding Crotona Park, one of the poorest Congressional districts in the country. NYJTL was founded in 1972 by Arthur Ashe and Lewis "Skip" Hartman. Over the past four decades it has become one of the largest and most successful youth tennis programs in the country reaching 75,000 children each year and over one million cumulatively during that time. The Cary Leeds Center is an incredible addition to the program and the beginning of a new chapter for the organization.


---