Young Wonder: Joey Alexander's Music Takes Off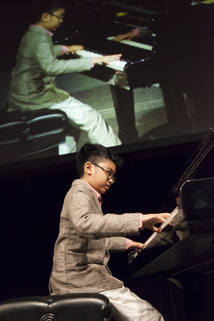 Alexander performs at the AALC Inspiration Awards © Ayano Hisa
Last week, 11-year-old piano prodigy, and friend of the Arthur Ashe Learning Center, Joey Alexander released his debut album, "My Favorite Things" on Motéma, the culmination of a whirlwind year. Just over a year ago, he was introduced to American audiences at the Jazz at Lincoln Center Gala, stunning the audience with his amazing technique and artful presentation. The following September he performed at our AALC Inspiration Awards Gala, after which he focused on recording the just released album.  He arranged all of the 11 songs on the album—which includes versions of the classics "'Round Midnight," "Over the Rainbow" and "Lush Life"—in addition to writing an original composition.
During that same period, he and his parents relocated from Jakarta, Indonesia to New York City and he has had the opportunity to play with current luminaries such as bassist Larry Grenadier and Grammy award winning drummer Ulysses Owens Jr.  For the record release, he played before a sold out club at Dizzy's Club Coca-Cola. Later this year, he will take the stage at the prestigious Newport and Montreal Jazz Festivals.
Learn more about Joey Alexander, see him perform or order the album here.
Read the New York Times album review and profile here.
---