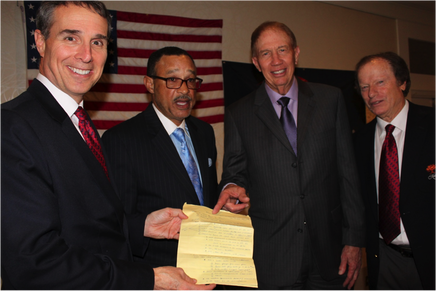 PTR CEO Dan Santorum, Johnnie Ashe, Dr. Jim Loehr and Pres. Roy Barth display Arthur's notes from a 1991 PTR speech. © PTR
On February 19, 2015 Arthur Ashe was inducted into the PTR Hall of Fame. More than 400 people were on hand as Ashe's contributions to teaching and coaching the sport of tennis were honored on Hilton Head Island. During his life, Ashe was not only a member of PTR but he also served as the spokesperson for the ACE program, which educated and certified thousands of multicultural tennis teachers across the country.
The induction began with Dan Santorum, the CEO of PTR, giving a personal introduction reflecting on his own experiences with Arthur in 1991 and drawing from a keepsake that Arthur had shared with him. He emphasized how Arthur changed PTR: convincing the organization to require ACE certification to help further the careers and placements of minority coaches. He also announced that the ACE program was being re-started to help promote the next generation of minority coaches.  After the presentation of the ESPN's 30 for 30 documentary "Arthur and Johnnie," Dr. Jim Loehr, the world-renowned performance psychologist, spoke about Arthur's commitment to serving others and his tremendous character as he overviewed some of the salient points of his biography.
Arthur's brother Johnnie Ashe was in attendance, accepting the Hall of Fame award on Arthur's behalf with a charming and moving speech, underscoring Arthur's grace, poise and dignity, as well as the ATA and other early contributors to spreading tennis in minority populations.
The induction was part of the PTR Awards Banquet, an annual highlight of the Professional Tennis Registry's PTR Week, which features lectures, workshops, and the PTR Championships in addition to professional development courses and a trade show. All of this comes together in the service of furthering PTR's mission to educate, certify and service tennis teachers and coaches with the hope of growing the game. Previous PTR Hall of Fame Inductees include Dr. Loehr, Jim Verdieck, and Dennis Van der Meer.


---