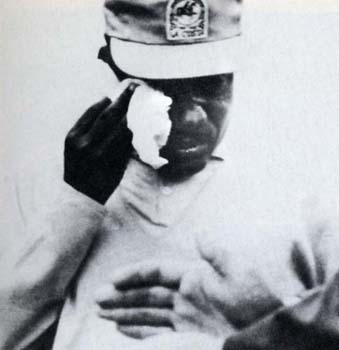 As a man who broke barriers in what was regarded as a "white sport," Arthur Ashe experienced his share of obstacles in the pursuit of athletic excellence. This experience, a love for sports, and the endless pursuit of knowledge led him to become a fan and appreciate his counterparts in other sports. Ashe's interest went so far as to drive him to author a three-volume history of African Americans in sport, A Hard Road to Glory, where he identified and detailed the stories of many trailblazing athletes. One such man whom Arthur recognized as a pioneer in the sport of golf is Charlie Sifford, who passed away last week. 
Born in 1922, Charlie Sifford grew up in a working class family. To help them with finances, Sifford worked as a caddy in the "Whites Only" country club of his hometown in Charlotte, NC. It was there that he taught himself how to play golf. Despite segregation there and in the Professional Golf Association, his passion pushed him to excel. Sifford moved to Pennsylvania to play with local African American golfers. 
Winning numerous titles, he was still unable to play against white players. However, the Civil Rights Era was starting to blossom and institutions were letting go of stringent regulations on participation. In 1957, he qualified for the Long Beach Open and won – becoming the first African American golfer to beat white players in a PGA co-sponsored tournament. 
The PGA decided to rescind it's Caucasian only membership clause in 1959 and Sifford became the first African American to receive a PGA card as an "Approved Player." Though a breakthrough, it was not full equity, as this title was usually reserved for foreigners. When he decided to compete under these terms, Sifford gained the support of other prominent black athletes such as Sugar Ray Robinson, Joe Louis, and Jackie Robinson who warned him of the difficulties ahead. Sifford recalls during the 1960 Greater Greensborough Open, "I had a good chance to get in the Masters if I finished good… suddenly I was intercepted by five white men who started following me around the course. They threw beer cans, jumped up and down when I attempted to concentrate on a shot, called me 'nigger' and many other vile names."
Through the pressure of the California attorney general, the PGA permitted full membership for those golfers on tour. In 1964, Sifford got a "Class A" card and was the first black player to compete on the PGA tour. By the time Sifford was allowed to compete against the world's best golfers, he was almost 40. He won the Greater Hartford Open in 1967, the first fully sanctioned PGA event ever won by an African American. Sifford continued gaining prestige and later won the 1969 Los Angeles Open.
He was self-taught, ambitious and determined to play the sport even though he suffered passive hostility and harassment along the way. For all that he endured and trailblazing a path towards equity and justice, he was awarded the Presidential Medal of Freedom by President Obama, the nation's highest civilian award, in 2014.
In the company of Jackie Robinson and Arthur Ashe, Charlie Sifford's story of persistence and not letting society dictate what he could achieve is one to be shared. In honor of his recent passing, we remember him for pursing his dreams and being a pioneer in the African American experience.
---