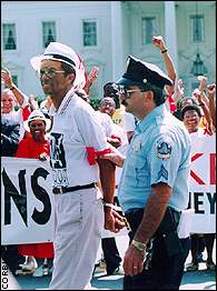 PC: raseanj.blogspot.com
​22 years ago today, Arthur Ashe, the beloved tennis player and activist, passed away from AIDS-related pneumonia. Ashe, who contracted the disease as a result of a blood transfusion following a heart operation, dedicated his life to both sport and the betterment of the world he inhabited. His many initiatives on and off the court left a lasting impact on the lives he touched and will continue to contribute to his reputation as a role model and leader for decades to come.
In looking at the current protests in the United States, many parallels with Ashe's activism become apparent.​ In 1992, only five months before he passed, Ashe was protesting the treatment of Haitian refugees under U.S. policy and was among ninety-five people arrested in front of the White House. Despite being very ill at the time, Ashe believed in standing up to injustice during the time that he had left.
The recent #BlackLivesMatter protestors in Washington D.C. staged "die-in" protests in the Capitol Hill cafeteria, to speak out and against the recent cases of violence against unarmed black men by police officers in the United States. In this event, the Longworth Building cafeteria was filled with three-dozen people lying next to one another, bearing signs and chanting "Black Lives Matter" in unison.
Ashe's stridency in following his beliefs, even in the face of punishment and despite personal circumstance, is honorable and inspirational and it is important to remember that there is still much work to be done and we can all join in the fight. Even in his final days, Arthur Ashe continued his activism. Today, we celebrate his life, his legacy and spirit and the invaluable lesson he taught us about working selflessly for those who cannot.
---