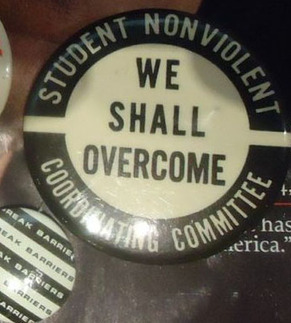 PC: http://commons.wikimedia.org/
Today the United States holds its general elections. It is a day when citizens cast votes for representatives in local, state, and federal government positions as well as an up or down for ballot propositions. For those of you who are citizens over age 18, it is not only a civic right to choose your leaders but also one that was not open to many segments of the population even just a few decades ago. Religion, race, class, and gender have all been the basis of voting restrictions at some point in this nation's history. It took courageous crusaders at various times to ensure that this constitutional right was made available to all.
2014 in particular marks the 50-year anniversary of the 1964 Freedom Summer, a historic campaign to register new black voters in Mississippi and to bring awareness to voter suppression. While blacks were technically allowed to vote, participating in the election was no easy feat in Southern states. Locally they were denied access to register and to voting sites, charged poll taxes, subjected to literacy tests, and suffered harassment when attempting vote. Harassment sometimes escalated to death threats to prevent people from casting their ballots.
In response to these Jim Crow era abuses, the Council of Federated Organizations, a coalition of the Student Nonviolent Coordinating Committee, National Association for the Advancement of Colored People, the Southern Christian Leadership Conference and Congress of Racial Equality, recruited a team of almost 1,000 black and white volunteers to run voter registration drives. These volunteers came from all over the nation to help the disenfranchised citizens of Mississippi and to show the rest of the nation what happens in isolated states. There were also doctors, medical professionals, lawyers and other volunteers working as support staff to address the arrests and violence that resulted.
During the ten-week project, over 1,000 people were arrested; 80 Freedom Summer volunteers were beaten; 37 churches and 30 black homes and businesses were bombed or burned; four civil rights workers were killed; and three Mississippi blacks were murdered because of their support for the movement. The interracial delegation not only served as a symbol for unity but also the horrors they experienced drew the entire nation's attention to the tremendous injustices being perpetuated by individuals, groups and local authorities in the South.
50 years later Freedom Summer continues to serve as a reminder of what we can achieve civically and how the ability to vote is incredibly important. Let your voice be heard and go to the voting booth today to cast your ballot in the midterm elections!
For more information on the Freedom Sumer, see the documentary on PBS's site: http://www.pbs.org/wgbh/americanexperience/films/freedomsummer/player/
For more information on where your polling location is click here: NY voters'
http://vote.nyc.ny.us/html/voters/where.shtml
. For other states, check your local state government page for information on where you can vote or google "where to vote"
---