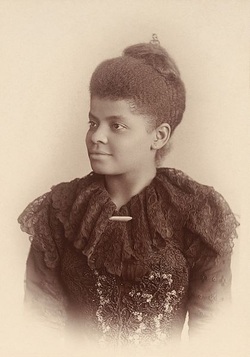 Tomorrow, America will remember Ida B. Wells-Barnett on her birthday. Wells was an African-American journalist and women's rights and anti-lynching activist who became one of the earliest faces of the Civil Rights movement.
Wells was born a slave in Holly Springs, Mississippi in 1862, just before President Abraham Lincoln issued the Emancipation Proclamation. Her mother and father were both enslaved and eventually freed under the Proclamation. During a visit to her grandmother in 1878, a yellow fever epidemic hit her hometown, killing her parents and 10-month old brother, Stanley.
Intent on keeping her siblings together despite pressure to enter the foster care system, Wells dropped out of her university education at Shaw University and took up a teaching position at a black elementary school. She realized quickly the wage discrepancy between black and white teachers: a white teacher was paid $80 per month versus her wage of $30. This discovery sparked her interest in race politics and the quality of education for blacks. Wells also gained notoriety in the Memphis community for her strongly worded commentary on women's rights, or the lack thereof.
On May 4th, 1884, a train conductor asked Wells whilst aboard the Chesapeake, Ohio and Southwestern Railroad to abandon her seat and move to the already-packed smoking car. Refusing to do so, she was eventually thrown out of the car by the conductor and two men. Upon her return to Memphis, she sued the railroad company and won- a victory that was eventually overturned when the company subsequently appealed the decision. Ironically, fellow activist Rosa Parks would tell a similar story 71 years later.
Her anti-lynching campaign came to a head following the lynching of three of her friends, who were killed after a lynch mob stormed the prison in which they were being held. As a result, Wells urged blacks to leave Memphis, citing the city as a "town that will neither protect our lives [nor] our property."
As an investigative journalist, Wells continued to be active within the growing Civil Rights and women's rights movements, collaborating with such prolific figures as Frederick Douglas and publishing such literature as
Southern Horrors: Lynching In All Its Phases
and
A Red Record
.
Following her marriage to Ferdinand Barnett and the birth of her four children, she found it increasingly difficult to balance her professional and personal life and took time to focus on her family.
Wells passed away on March 25, 1931 in Chicago, Illinois at the age of 68. To this day, she is remembered as one of the earliest faces of the Civil Rights and women's rights movements and, in 1990, was commemorated with a 25-cent postage stamp.
To read more about Ida B. Wells, check out
this article
. 
---