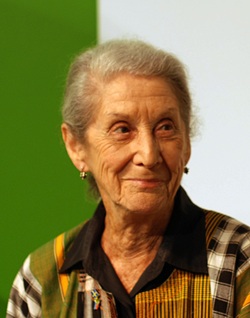 Photo: Bengt Oberger
A South African author and activist whose literary works helped to shine a brighter light upon the political and societal injustices in her home nation, Nadine Gordimer passed away on Sunday.
"I am not a political person by nature," Gordimer was once quoted as saying. "I don't suppose if I had lived elsewhere, my writing would have reflected politics much, if at all. " However, the rise of the apartheid movement around her became too large and unjust to ignore.
Her numerous novels, such as "A World of Strangers" and "The Conservationist", chronicled the apartheid system in South Africa and condemned the treatment of blacks within contemporary South African society. Gordimer received the Nobel Prize for Literature in 1991.
The anti-apartheid movement in South Africa attracted several prominent international figures to speak out in its favor, including Arthur Ashe. After being repeatedly denied an entrance visa in order to participate in the South African Open, Ashe began using these examples of discrimination to campaign against the country's expulsion from the International Lawn Tennis Federation. He was eventually granted a visa in 1973 and participated in the tournament, but his social activism in the country continued beyond his professional career: Ashe continued to visit South Africa to witness the movement's progress firsthand. Furthermore, he was arrested in a 1985 Washington anti-apartheid protest and later marched on the U.N. with the same mission.
For more information about Nadine Gordimer's life and legacy, click
here
.
To learn more about Arthur Ashe's activism efforts, click
here
. 
---