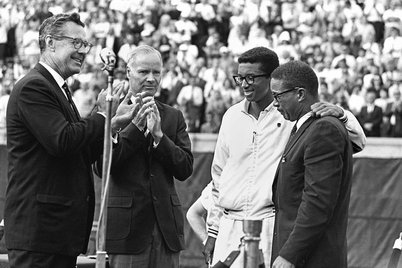 Russ Adams
In the wake of the 2014 Wimbledon Championships, we thought we would share this inspiring post by Michael Beschloss of the New York Times about Arthur's challenging trajectory to excel and succeed in the world of professional tennis during a time when it was predominantly a 'white' sport. 
Arthur won the 1975 Wimbledon Championships on July 5, 1975 against the heavily favored Jimmy Connors. Above, a photo of Arthur R. Ashe, Jr. victor of the first U.S. Open Championship in 1968, with his father, Arthur Ashe, Sr. 
Click here to read the full post by Michael Beschloss.
---