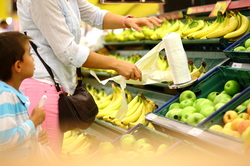 Earlier this month The School Nutrition Association celebrated National School Breakfast Week, the culmination of its annual campaign to promote school breakfasts and the importance and intersection of nutrition and education for school age children. In honor of this program
www.ArthurAshe.org
is highlighting federal school nutrition programs such as National School Breakfast Program (NSBP), National School Lunch Program (NSLP), and healthy living programs such as
Let's Move!
In this light we will take a look at the historical context and impetus behind these programs and the effects they have on children in our society.
The NSLP is the most widespread and utilized student meal program in the U.S. The existence of the program allows for all children enrolled in school to receive a nutritious lunch every school day. Depending on a child's household income, the child can purchase a meal through the NSLP at full price or reduced price, or he or she may be eligible to receive school lunch for free.
Approximately 95% of public schools participate in the program and during the 2011-2012 school year 29 million children in more than 98,347 schools and residential childcare institutions participated in the NSLP.
The NSBP was founded on a similar premise: the federal government works with participating schools to ensure that children have the option of purchasing (or in some cases receiving one for free) a nutritious breakfast at school. This option was made under the assumption that many children may not eat a nutritious breakfast at home in the morning due to either a long commute to school, or as a result of their family's inability to afford a healthy one at home or at school. Three out of four schools that serve lunch also serve breakfast.
During the 2011-2012 school year, 12.5 million children in 89,666 schools and institutions participated in the School Breakfast Program. Of these children, 10.5 million, or 84%, received free or reduced price breakfasts.
The movement to incorporate federal standards for meals in public schools began in the early 20th century and was formalized through legislation in the mid 20th century as a result of the National School Lunch Act (NSLA) of 1946. This act was the first piece of legislation in which Congress gave the National School Lunch Program ongoing appropriations and alleviated its dependence solely on donation of agricultural surpluses to provide low cost or free school meals to children who may otherwise be at risk for undernourishment. The latter half of Section 2 of the NSLA states the purpose of the act as
"… to assist States, through grants-in aid and other means, in providing an adequate supply of food and other facilities for the establishment, maintenance, operation and expansion of nonprofit school lunch programs."
(paraphrased) 
Subsequently, the NSLA has been amended several times to meet various goals such as adjustment of funding, grant allocations and emphasis on improving programs in particular states. The Child Nutrition Act of 1966 further supplemented the NSLA and shifted the focus toward the importance of nutritional content of school meals and their link to child learning and development.
Since the passage of the aforementioned legislation numerous studies have been conducted on the different facets of national school meal programs and their impacts (both positive and negative) on child health, learning, and development. For instance, since the 1990s the U.S. Department of Agriculture (USDA) has funded studies about
"key characteristics of school meal programs, the school environments in which the programs operate, the food and nutrient content of the school meals and, in some studies, the contributions of school meals to the students' diets."
 The most recent of these studies, the School Nutrition Dietary Assessments (SNDA) have been conducted a total of four times to date. The SNDA measures the rate at which schools adhere to nutritional standards by using the standards set by the School Meal Initiative (SMI). Below are some points of interest, according to latest study, the SNDA-IV:
·       Of the 600 schools studied in the survey, 85% or more of all schools offered NSLP lunches that on average met or exceeded SMI standards for protein, vitamin A, vitamin C, calcium, and iron
·       A majority of schools
offered
and
served
average NSLP lunches that were consistent with the SMI standard for total fat (no more than 30% of total calories from fat) or came within 10% of this standard
·       Most schools
offered
and
served
School Breakfast Program (SBP) breakfasts that, on average over a typical school week, were consistent with the SMI standards
·       Compared with elementary schools nationwide,
large proportions
of HealthierUS School Challenge (HUSSC) elementary schools met most SMI standards for both lunches
offered
and
served
(e.g., with regard to standards for calories, vitamin C, iron, total fat and saturated fat)
One can surmise that First Lady Michelle Obama's initiative,
Let's Move!
works closely with the USDA to analyze SNDA results and evaluate the state of school meal programs across the country and the effect on this generation of American children. The mission of
Let's Move!
, as stated on
www.letsmove.gov
:
"… this initiative is dedicated to solving the challenge of childhood obesity within a generation, so that children born today will grow up healthier and able to pursue their dreams. Combining comprehensive strategies with common sense,
Let's Move!
is about putting children on the path to a healthy future during their earliest months and years; giving parents helpful information and fostering environments that support healthy choices; providing healthier foods in our schools; ensuring that every family has access to healthy, affordable food; and, helping kids become more physically active."
In this spirit, in 2010 President Obama signed the
Child Nutrition Reauthorization: Healthy, Hunger-Free Kids Act of 2010
. The Act authorized funding for federal
school meal and child nutrition programs and increased access to healthy food for low-income children. The bill has a particular focus on improving child nutrition and reducing childhood obesity, increases access to school meals, and improves regularity of monitoring and evaluation of the program to ensure quality and adherence to nutritional standards.
Let's Move! has a number of initiatives under its umbrella
geared toward healthy living for America's children and families on state, local, and neighborhood levels. Since its inception, the program has successfully collaborated with organizations in the private, public, and nonprofit sectors to promote and adhere to improved nutritional guidelines, produce advertising that encourages children to consume more fruits and vegetables, fund programs that provide opportunities for more physical activity in neighborhoods across the country, and, of course, in 2012, the First Lady, in conjunction with Epicurious, USDA, and the Department of Education, hosted the first-ever
Kids' State Dinner
to celebrate healthy lunchtime recipes created by kids.
Since the turn of the century our commitment to a holistic approach to youth education and children's health has evolved from federal legislation mandating the availability of school lunch for all children to a focus on both nutritional values and content of school meals, and thanks to more recent initiatives, a demonstrated a commitment at the national, state, and local levels to improve children's well-being and reduce the risk of obesity for generations to come. Time will be a deciding factor in the effectiveness of these programs. According to the Center for Disease Control and Prevention (CDC), over the past three decades, childhood obesity rates in America have tripled, and today, nearly one in three children in America are overweight or obese. However, there are some encouraging CDC findings with respect to younger generations, specifically, children ages 2-5. Within this age group obesity has declined 43% in the last 10 years. Additionally, another study focused particularly on low-income 2-4 year old children who participated in federal nutrition programs found a significant decline in obesity rates among this cohort. These findings suggest that the message of healthy eating, moving, and living, in conjunction with availability of the appropriate resources, has come a long way to set healthy habits that will have a positive impact on these children well into their adult lives.
Nonetheless, much remains to be done, particularly for older children and adolescents, as approximately 17% (or 12.5 million) of children and adolescents aged 2-19 years old are obese in the United States, and the numbers are even higher within minority populations and low-income children. Much like a commitment to one's personal health, we have made a commitment to raise healthy future generations of Americans. Our commitment thus far has made a proven difference. If we can sustain healthy living initiatives for decades to come this will not only help us become a healthier society, but will also demonstrate a positive economic impact: studies have shown that rising rates of obesity directly contribute to rising medical costs. For instance, Ross A. Hammond commented in a
2012 article
that childhood obesity alone is responsible for $14.1 billion in direct medical costs annually. In addition, by some estimates, nearly 21% of all current medical spending in the United States is now obesity related. Lastly, a recent analysis concluded that total Medicaid spending would be almost 12% lower in the absence of obesity. Therefore, one can conclude that funding and sustaining programs that focus on healthy living and obesity prevention will have a significant impact on reduction of healthcare costs in the long term. Time will tell if we stay the course, as will the obesity-related expenditures of our healthcare system.
For more resources on this, topic, please visit:
http://www.fns.usda.gov/school-meals/child-nutrition-programs
http://frac.org/federal-foodnutrition-programs/
http://www.letsmove.gov/
http://www.cdc.gov/obesity/data/childhood.html
http://www.brookings.edu/research/topics/health
---