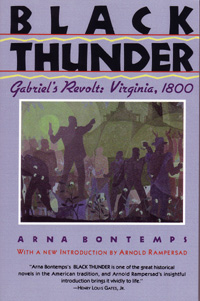 Arna Bontemps was a prominent literary figure throughout the first half of the twentieth century, particularly notable due to his influence on African American literature and culture. "His career as a man-of-letters was long and varied-poet, fictionist, playwright, biographer, historian, anthologist-but he is chiefly associated with that period of Afro-American literary achievement that has come to be known as the Harlem Renaissance" (Canaday, 164). 
Arna Bontemps was born on October 13, 1902 in Alexandria, Louisiana to a Louisiana Creole family. In 1905 the family decided to move west, to California, during the first wave of the "Great Migration." There, Bontemps attended public schools and went on to obtain a degree from Pacific Union College in 1923. Shortly thereafter, he moved to New York City, drawn to the force that was the Harlem Renaissance. He became friends with Countee Cullen, Langston Hughes, W.E.B. Dubois, Zora Neale Hurston, James Weldon Johnson, Claude McKay, and Jean Toomer. Bontemps became very close with Countee Cullen, serving as the best man in two of his weddings, and found a lifelong role model and collaborator in Langston Hughes. In 1926 he married Alberta Johnson, with whom he had six children.
Bontemps published his first novel,
God Sends Sunday
, in 1931. In many ways, this work was a quintessential piece of Harlem Renaissance literature, which traces the rise and fall of a black jockey named Little Augie, who is shrewd with money, bold and lucky in the world of horse betting, and enjoyed a high-priced life of style and glamour. The novel is set primarily in New Orleans, St. Louis, and Mudtown, California. The material drawn from these locations is very much reminiscent of Bontemps' own connection with Louisiana culture and his later life experience in California. A story that issues a stern warning against a life of decadence and fast living, Augie eventually finds himself running out of luck and running from his problems with little resolution at the end of the story.
During this time Bontemps also collaborated with Langston Hughes on a children's piece called
Popo and Fifina
, published in 1932, that serves as an introduction to Haitian life and culture. This was a period of constant migration for Bontemps family, as they moved from New York to California, to Alabama, where he wrote
Black Thunder.
One of his more well-known novels,
Black Thunder
focuses on a fictional slave uprising near Richmond, Virginia in the early 1800s. The protagonist is a 24 year old slave named Gabriel. Inspired by Toussaint L'Ouverture's slave revolt in Haiti, the story has many biblical overtones. For instance, Gabriel, the name of the protagonist, is also commonly known as the angel of important messages. Gabriel, after witnessing an unjust murder on the plantation, organizes a revolt which many other slaves support and join. William Scott suggests that Gabriel's role as messenger and planner of the revolt helps bridge the gap and create a passage for himself and for other slaves to transition from slavery to freedom (Scott, p. 525). Further more, the story is told from a variety of viewpoints (e.g., the slaves as well as the slaveholders), thus putting the revolt in historical perspective. Set shortly after the American and French Revolutions, but before the American Civil War, Bontemps provides an interesting retrospective on the values society places on liberty, equality, and fraternity.
Although
Black Thunder
was highly acclaimed, it did not reap the monetary remuneration necessary for Bontemps to sustain himself and his family. This trend continued for several years despite his prolific writing. He became somewhat disillusioned with the mainstream genre of African American literature and decided to turn to writing children's books, with an occasional publication geared at an adult audience. During this time he wrote
Sad-Faced Boy
(1937),
Drums at Dusk
(1939), and collaborated with Jack Conroy, who he met on the Illinois Writer's Project to write
The Fast Sooner Hound
(1942).
In 1943, Bontemps returned to graduate school to earn a master's degree in library science from the University of Chicago. Soon afterward he was appointed head librarian at Fisk University in Nashville, Tennessee, and, for the next twenty-one years was instrumental in developing the university's collection of African-American literature and culture until his retirement in 1964.
During the last few decades of his life, Bontemps continued collaborating with Langston Hughes and Jack Conroy to publish novels on a variety of themes, both for children and adults. His 1948 publication,
Story of a Negro
, was highly praised and received the Jane Addams Book Award, as well as a Newbery Honor mention. He passed away in his home in Nashville on June 4, 1973.
Select works by Arna Bontemps
:
God Sends Sunday: A Novel (New York, Harcourt, Brace and Co., 1931; New York: Washington Square Press, 2005)
Popo and Fifina, Children of Haiti, by Arna Bontemps and Langston Hughes (New York: Macmillan, 1932; Oxford University Press, 2000)
Black Thunder: Gabriel's Revolt: Virginia 1800 (New York: Macmillan, 1936; reprinted with intro. Arnold Rampersad, Boston: Beacon Press, 1992)
Sad-Faced Boy (Boston: Houghton Mifflin, 1937)
Drums at Dusk: A Novel (New York: Macmillan, 1939; reprinted Baton Rouge, Louisiana: Louisiana State University Press, 2009,
The Fast Sooner Hound, by Arna Bontemps and Jack Conroy (Boston: Houghton Mifflin, 1942)
Story of the Negro, (New York: Knopf, 1948; New York: Random House, 1963)
The Poetry of the Negro, 1746–1949: an anthology, edited by Langston Hughes and Arna Bontemps (Garden City, NY: Doubleday, 1949)
Lonesome Boy (Boston: Houghton Mifflin, 1955; Beacon Press, 1988)

Select Works About Arna Bontemps:
Alvarez, Joseph A. "The Lonesome Boy Theme as Emblem for Arna Bontemps's Children's Literature." African American Review, Vol. 32, No. 1, Children's and Young-Adult Literature Issue (Spring, 1998), pp. 23-31. Indiana State University
Canaday, Nicholas. "Arna Bontemps: The Louisiana Heritage." Callaloo, No. 11/13 (Feb. – Oct., 1981), pp. 163-169 Published by: The Johns Hopkins University Press
Kirkland C. Jones, Renaissance Man from Louisiana: A Biography of Arna Wendell Bontemps (Westport: Greenwood Press, 1992).
Scott, William. "To Make up the Hedge and Stand in the Gap": Arna Bontemps's "Black Thunder." Callaloo, Vol. 27, No. 2 (Spring, 2004), pp. 522-541. The Johns Hopkins University Press
"Summary" Masterplots II: African American Literature, Revised Edition Ed. Tyrone Williams. Salem Press, Inc. 2008 eNotes.com 26 Feb, 2014 <http://www.enotes.com/topics/black-thunder#summary-the-novel>
---