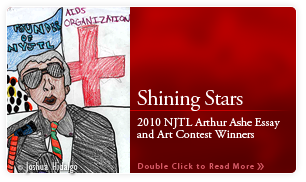 Winner of the Boys 11 and 12 art category is Joshua Hidalgo of Bronx, NY. Winner of the Girls 13 and 14 essay category is Allyce Harrison of Wichita, KS. The following is her winning essay:
There are an immense amount of black achievers whose accomplishments inspire me to pursue excellence. These individuals have made significant contributions to science, the fine arts, athletics and several other areas. Of the individuals known for accomplishing prominence in sports, Arthur Ashe is a name that is commonly discussed. However, what isn't as well acknowledged are the accomplishments and the legacy that Arthur Ashe has made towards society as a whole.
In addition to being a great athlete, Arthur Ashe also excelled in academics. After graduating first from his class in high school, Ashe received a full scholarship to attend the University of California, Los Angeles (UCLA). Throughout his life he received honorary doctorates from numerous highly respected colleges including Princeton University, Trinity University, Hartford College and Virginia Union University. Arthur Ashe obtained high academic standards for people to follow. His hard work in school made him a role model for others. Because of the example set by Ashe, many schools have been named in his honor. Most of the Arthur Ashe schools are based on high academic achievement, and not just tennis.
While at UCLA, Ashe led his team to a national tennis title, while also winning the men's singles during his junior year. The passion for being a champion followed Ashe into his professional career, where he became the first and only black male to ever win the singles title at both Wimbledon and the US Open. The US Open and Wimbledon were two of the most acknowledged tennis accomplishments. In addition to those, he also won singles and doubles in Australian Open in 1970 and Winner, French Open in 1971.
Arthur Ashe was very versatile. He was a very unique special and rare person. He had a passion for everything including serving his country. From 1966-1968 he served in the Army. He was a First Lieutenant. Being in the military was only part of his contributions to serving his country. To help the less fortunate kids he gave junior tennis lessons. Arthur Ashe also tried to give public awareness to the subject of AIDS after he had been diagnosed with the disease. Arthur Ashe died at the young age of 49, because of this disease.
In the game of tennis, the serve is quite important. Not only does the game begin with a serve, but serving can also be used as an offensive weapon. Off the tennis court, serving is just as important. As humans, we have a morale obligation to serve our families, our communities and our country. Arthur Ashe is a great example of an individual was just as passionate about 'serving' the world off the court, as he was serving the ball on the court.
---