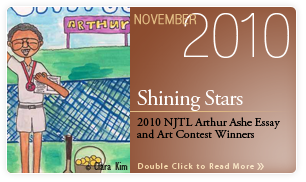 Winner of the Girls 10 and under art category is Clara Kim of Flushing, NY. Winner of the Girls 17 and 18 essay category is Grace Trimble of Winchester, KY. The following is her winning essay:
When asked my opinion on which of Arthur Ashe's accomplishments is his greatest, it has been his legacy that has transcended generations and merits the title of his greatest accomplishment. His legacy has carried on bringing with it a spirit of generosity and voluntarism that has affected past generations and will continue to inspire generations to come.
His legacy has been making a way for children across the nation to pursue greater success in their education and athletic endeavors. Even after his death in 1993, it has been his ability to motivate and still inspire hope that has made his greatest accomplishment even more worthwhile.
My personal attachment to his legacy has been formed over the past year as I have gone through the process of setting up my own National Junior Tennis and Learning (NJTL) in Lexington, Kentucky: LTC Smart Shots. It was Arthur Ashe who inspired me to start this organization in my community. I believe that this program has inspired hope, motivated and driven children to try the sport of tennis and believe in the opportunities their education will surely provide them.
The children in LTC Smart Shots generally come from underprivileged areas in Lexington. It is my hope that these children will cultivate a belief in themselves at an early age that will carry on for the rest of their lives. Mr. Ashe's belief in himself and his abilities gave him the opportunity to achieve great things, resulting in a legacy that inspired young people of today – the leaders of tomorrow.
---