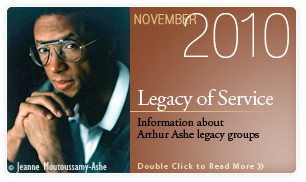 USTA/ National Junior Tennis and Learning
White Plains, NY
http://www.usta.com/Youth-Tennis/National-Junior-Tennis-Learning/NJTL/
This national youth program, cofounded as the National Junior Tennis League by Arthur Ashe in 1969, teaches tennis while also emphasizing leadership and academics. Over the years, it has grown into a large organization with a presence in every state and more than 550 chapters reaching more than 225,000 kids a year. One of its biggest initiatives is the Arthur Ashe Essay Contest, held every year, where students write in 300 words or less why Arthur Ashe is a legend. Some of the other initiatives include an Invitational Leadership Tennis Camp and various Regional Rallies between geographical chapter groups of NJTL.
Safe Passage Tennis Program
Los Angeles, CA
http://www.safepassagetennis.org
Using tennis as a tool to teach self-esteem, character and discipline, Safe Passage brings together educators, tennis professionals, parents and volunteers to run in-school and after school tennis programs. Kids enroll between the ages of 5-12 and can choose to continue in the program all the way through high school, to age 18.
Arthur Ashe Youth Tennis and Education Center
Philadelphia, PA
http://www.ashetennis.org/2010/
The Arthur Ashe Youth Tennis and Education Center works with more than 8,500 children a year promoting academic commitment and sportsmanship through the game of tennis.
Ashe/Buchholz Tennis Center
Miami, FL
http://www.firstserve.org/chapter1.html
Founded as a safe place for inner-city youth to play tennis and learn, there are various tournaments and programs for youth held at the Ashe/Buchholz center through out the year.
Arthur Ashe Children's Program
Washington, D.C.
http://www.wtef.org/programs_dscr.html#aacp
Reaching 450 at-risk 2nd through 9th graders a year, this after school program works on tennis, academics and life skills. Every day has a prescribed amount of time for homework and one-on-one help. In addition, tennis instruction is provided on school and neighborhood tennis courts. These activities help keep kids involved in school and foster self-esteem and confidence.
Virginia Heroes
Richmond, VA
http://www.virginiaheroes.org
Founded by Arthur Ashe in 1991, Virginia Heroes provides middle school students in Richmond with mentors who help them to develop life and decision making skills. Through visits to local colleges and universities, the program also encourages students to think about their opportunities for higher education.
Arthur Ashe Endowment for the Defeat of AIDS
New York City, NY
The Arthur Ashe Foundation for the Defeat of AIDS was founded by Arthur Ashe in 1992 to raise money for research into treating, curing and preventing AIDS, the end goal being the eradication of the disease. In 1995, the remaining foundation funds were matched by Weill Cornell Medical College to establish the Endowment at the Medical College. The Endowment provides the financial support to run the International Healthcare Worker HIV Training Program, the Arthur Ashe Professorship of Medicine, and the Arthur Ashe Endowment Lecture, as well as for clinical trials for patients receiving HIV/AIDS treatment and other programs.
The Arthur Ashe Endowment International Healthcare Worker Training Program
New York City, NY
Each year the Training Program enables eight healthcare workers to come to New York for four weeks to receive specialized HIV/AIDS care training at the Weill Cornell Medical College. To qualify, the health practitioners must work in AIDS treatment and come from developing nations with substantial AIDS populations. During their time at Weill-Cornell, they learn about treatments and alternative practices for treating the disease that are not available in their home countries. Since its inception, more than 80 healthcare workers have received training through the program.
The Arthur Ashe Endowment Christopher Barley Lecture
New York City, NY
This lecture series features world-renowned individuals who are involved in the fight against AIDS. They are invited to speak in New York at the Weill Cornell Medical College to the faculty, medical students and residents in training. The Ashe Lecture was established in 1996 and over the years has featured prominent speakers such as Peter Piot, Jeffrey Sachs and Laurie Garrett.
Arthur Ashe Institute of Urban Health
Brooklyn, NY
http://www.arthurasheinstitute.org
The Arthur Ashe Institute of Urban Health was founded to improve the health of multiethnic communities in urban areas. These populations often display higher morbidity and mortality rates. It provides a resource for health knowledge and information about health care for individuals while collaborating with health institutions and major corporations to increase health care access.
---