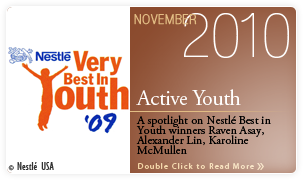 A spotlight on Nestlé Best in Youth winners Raven Asay, Alexander Lin, Karoline McMullen
Since 1998, Nestlé has sponsored the Very Best in Youth program, a contest established to recognize and highlight the tremendous service work of 13 to 18 year olds around the country. All of the winners, in addition to being committed to giving, are also committed students. They all stand as excellent examples of how anyone can find a way to make a difference, no matter where you live or how old you are.
One of the greatest things about the winners is how they often draw on their passion or their life experience and use that for a basis of involvement. One example of this is Raven Asay, a 14 year old of Las Vegas, NV. "When I was young I didn't understand all the things that happened to me. I locked the bad memories away. I didn't want to think about them," Raven said in reference to her childhood, which was spent in an abusive household. She later moved in with Brenda Asay, her foster mother who then became her adoptive mother, who sought to help her.
"As I got older, I began therapy and all of those bad memories resurfaced. It was painful to realize that my birth mom could do all those horrible things. My front teeth were punched out before I was four. My left hand was permanently disfigured; part of my finger was removed because I didn't receive the proper medical attention. Thinking and talking about these experiences affected my behavior. I'd experience angry outbursts for no apparent reason. I couldn't identify my feelings or why it was happening. Sometimes my outbursts lasted for hours."
Over time, Brenda Asay realized that Raven had Reactive Attachment Disorder, which can occur when very young children do not form normal attachments with caregivers, often as a result of neglect or abuse. Learning about the disorder inspired Raven to work even harder at school and to help others. She began with a toy drive, which has collected over 8,000 toys for children. But she didn't stop there.
"To help me with my past, I was encouraged to write down my experiences. After discussing my experiences with my mom, we discovered the topics I wrote about could help other children. That's when the idea of writing books began." Since that time, she has written and co-written more than 12 books that draw upon her experiences to help other children, even receiving grants from the city of Las Vegas and sponsorship from a law firm for 1,500 copies of her book Court Talk. "Through these books, I've been able to reach thousands of foster children. These books educate, offer hope and encouragement. Foster children are comforted by the knowledge that they're not alone."
Another winner is 16 year-old Alexander Lin of Westerly, RI who has turned his environmental and engineering interests into projects with global reach. In fifth grade he became leader of the Westerly Innovations Network, a student community service group that has worked with the local Meals on Wheels program, raised awareness about spaying and neutering pets and rabies prevention, and electronic waste. Many consumer electronic items are not safe to dispose of with regular garbage due to chemicals such as mercury and lead. These items are called electronic or e-waste.
In response, Alexander formed Project WIN '05, which he describes as, "dedicated to the preservation of the environment and the betterment of lives through the reuse and recycling of e-waste. We have established a receptacle where town residents can recycle e-waste at no cost. So far more than 250,000 pounds of e-waste has been recycled. Also, we refurbished and distributed over 300 computers to students in our town; we have also set up two computer centers for schools in Rhode Island. Now we are setting up a pilot system with the United Nations Environmental Program for providing refurbished computers to international youth. Computer centers have been sent out to Sri Lanka, Mexico, Cameroon and Kenya, with more on the way."
"My project entitled WIN '08 – A Green Bridge Across the Digital Divide was designed to bring computer technology to developing countries. Internet access allows people in the poor countries to share information and raise awareness to combat poverty and injustice. By developing these impoverished societies and creating businesses for them to sustain themselves, the problem of poverty can be solved."
In addition to international relations, his organization has ventured into local politics, helping his town and state pass bills banning the improper dumping of e-waste. His passion about electronics and the environment extends to his future plans as well. He dreams of attending MIT and hopes afterward, "to go into some field of engineering. As a result of environmental work, I would like to go into research for better forms of materials and energy."
Also invested in the environment is Karoline McMullen, age 18 of Chesterland, OH, who grew up in a rural setting "sort of like a farm," spending a lot of time outdoors. "I think that given my experiences as a young child," Karoline says, "I became acutely aware when I got older of all the environmental degradation that was going on around me." Her childhood love of nature translated into working toward the environmental preservation. She spends eight hours a week during the school year, and between 10 and 40 hours a week during the summer educating her community about the coldwater ecosystems. She teaches classes, to both adults and children, on a wide range of environment related topics such as native and invasive species, watersheds, pollution and more.
She has extended her reach beyond her immediate community by forming mobile teaching resources and curriculum kits for the Museum of Natural History and writing a book about the native Ohio brook trout, which is threatened. Throughout all of her work, she has remained on her school's honor roll. She looks forward to having a career that will engage science and community work, such as working as a research scientist in a remote corner of the globe. "In 20 years, I would want to be living in a world where island nations that are close to sea level are still above sea level. I would want to be living in a world where people don't use the term green' or 'environmentally friendly' because everything is designed with environmental responsibility in mind. I would want to be living in a world where international leaders are working cooperatively and where I have some ability to work on the environment from an international perspective. "I'd also want to be living in a world where people don't necessarily associate themselves first with their respective countries, but see themselves as citizens of the world, and I think that as an increasingly globalized population, that will be an association people need to make."
While the students featured here and the rest of the winners of the Nestlé Very Best in Youth contest have all achieved amazing results, many of them started as small, local projects that anyone with a passion can start. They display how if you love technology, you can translate that into service or if you are ardent about the arts, you can use that as a basis for volunteerism. These kids prove that the most important thing about helping others isn't how much money you have or how important you are, it's finding a way to share the talents you have and that the results can be truly awe inspiring.
You can find out more about the Nestlé Very Best in Youth program, including how to ap
ply and more inspiring stories, here:
http://verybestinyouth.nestleusa.com/public/default.aspx
---