Jan Kodes | A review of his new biography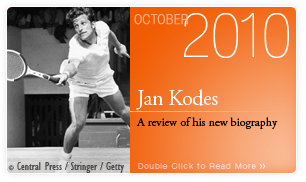 Jan Kodes: a Journey to Glory from Behind the Iron Curtain, a biography about Kodes written with the Czech journalist Petr Kolar, is an interesting look at a successful tennis career forged in the middle of a changing sporting, political, and social landscape. Kodes, one of the most successful Eastern European players ever, was a two-time French Open champion and one-time Wimbledon winner. His career took place during the creation of the modern, Open era of tennis and opened the door to future Czech players such as Ivan Lendl and Martina Navratilova. His struggle to overcome constant state interference in his personal and professional life is compelling and provides a glimpse into a society that will appear very foreign to observers of American sport and culture.
Kodes grew up in communist Czechoslovakia. His father, a lawyer, was forced to work in a factory because he was suspected of having capitalistic tendencies. Kodes himself was denied a place in secondary school because he hadn't joined a communist youth organization. He also went to work in a factory before his success in tennis enabled him to pursue higher education. He decided to major in economics and pursued his studies even as his tennis career was taking off, frequently looking at problem sets in order to relax before matches.
Kodes' success in tennis allowed him to travel to the West, which was unusual for someone in 1960s Czechoslovakia. However, in spite of his success, his personal concerns were still subordinated to the whims of the state. He was largely unable to decide when and where he would play, he missed out on the Australian Open because the Czech sporting bureau decided the plan fare was too expensive, and was forced to report for military service the year after winning Wimbledon.
In this climate the debate over the unification between the professional and amateur tennis circuit was full of importance, particularly for players from communist countries. The Eastern Bloc countries, of which Kodes and Romania's Ilie Nastase were the most successful representatives, objected to the professionalization of tennis because it was inherently capitalistic. The fact that players would earn money based on their level of success in tournaments was in direct conflict with the Communist sporting model. Eventually, a compromise was worked out where Kodes and other Czech players became "semi-professional," entering certain tournaments as professionals, eligible to receive monetary winnings, and others as amateurs with the expenses and winnings covered by the government.
Jan Kodes: a Journey to Glory from Behind the Iron Curtain is poorly translated from Czech to English and the language is frequently confusing. Nevertheless, it is an important and interesting chronicle of tennis history, Eastern European sport, and the life and career of a unique and compelling champion.
---