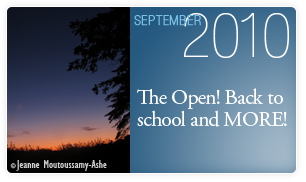 September is always the busiest month with the US Open excitement in the air. We delve into U.S. Open history by recalling the 1972 Open with an article by our friend and special contributor, Steve Flink. Arthur Ashe Kids' Day last month was a huge success and our best Kids' Day event ever. Our spread covers the entirety of Kids' Day events: starting with ringing the closing bell for the NASDAQ exchange the day before Kids' Day—which included the participation of several Arthur Ashe Essay Contest Winners—all the way through the performances and fun activities throughout the day. Make sure you visit our special feature and check out the slideshow with pictures that you won't find anywhere else!
We also are celebrating Hispanic Heritage month, which begins September 15, by revisiting the storied career of Pancho Gonzalez, one of the most dominant tennis players of all time. To help with back to school, we have gathered information about various scholarships being offered that sometimes go unnoticed and are therefore untapped. Some of these scholarships are quite unique with unusual application requirements but definitely worth exploring!
Lastly, for the beginning of this month we are hosting the Arthur Ashe Endowment for the Defeat of AIDS live auction where you can bid on specialty items including signed tennis paraphernalia, tee shirts and more. Also, the 2010 US Open Limited Edition Arthur Ashe shirt is here! Be sure to get yours before they are all gone! All proceeds from the auction and sales of the limited edition shirt go 100% to Arthur Ashe charities.
We hope you will have fun visiting arthurashe.org this month and that you will have the opportunity to see your favorite player win the U.S. Open this year!
Jeanne Moutoussamy-Ashe
Founder and Chairman
Arthur Ashe Learning Center
© COPYRIGHT 2010.     ARTHUR ASHE LEARNING CENTER.     ALL RIGHTS RESER
---