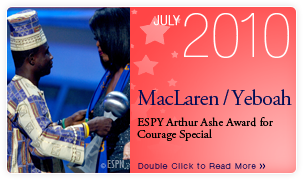 Jim MacLaren and Emmanuel Ofosu Yeboah were awarded the 2005 Arthur Ashe Award for Courage for their inspirational examples and bravery in the face of overwhelming odds. Jim MacLaren was 22 years old and had just finished his undergraduate degree at Yale University, where he had played football, when he was hit by a New York City bus while riding his motorcycle. Doctors amputated MacLaren's left leg below the knee. MacLaren rehabbed diligently and, while pursuing graduate studies at The Yale University school of Drama, started competing in triathlons.
MacLaren became a sensation in the world of triathlons; he routinely finished ahead of 80 percent of able-bodied athletes and competed in some of the toughest races in the world. However, while competing in a triathlon in California, MacLaren's life changed again: a van was mistakenly allowed to cross the road during the race and blindsided MacLaren who was riding a bike at the time. The crash broke his neck, paralyzing him. MacLaren persevered, embarking on a period of self-study and reflection. He managed to regain some motor function in his limbs and founded the Choose Life Foundation. He also began booking speaking engagements, using his life story to teach others how to live with adversity.
Emmanuel Ofosu Yeboah was born with a severely disabled right leg. In Ghana, Yeboah's homeland, disabled children are frequently abandoned, killed or sent to the street to beg. Yeboah's father walked out on his family when he discovered his son's disability. However, Yeboah's mother stuck by her son, enrolled him in school and taught him that he deserved the same treatment as anyone else. After her death, Yeboah felt the need to transmit her message of acceptance and equality to the rest of his country. He decided to ride a bicycle across Ghana, peddling with one leg and demonstrating the potential and perseverance of the country's disabled citizens. By the end of his journey Yeboah had appeared in newspapers and radio programs and become a national sensation.
In 2003 the Challenged Athletes Foundation (CAF), a California based organization, invited Yeboah to compete in a triathlon in San Diego. The trip was a life changing one. Two doctors who did work with the CAF evaluated him and discovered that he could be fitted with a prosthetic leg, thus freeing him from his crutches. In San Diego Yeboah also met MacLaren, the two became friends and Yeboah credits MacLaren for inspiring him and teaching him how to continue to use his inspiring story to reach others. Today Yeboah is a tireless advocate for the rights of disabled people in Ghana and has set up education funds for disabled children and lobbied for a bill that would force Ghana to provide better accommodation and opportunities for its disabled citizens.
---