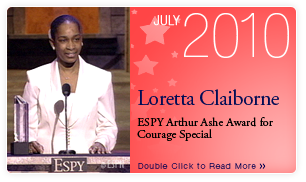 Born partially blind and mildly mentally challenged to a poor single-parent family, Loretta Claiborne became one of the Special Olympics' most decorated athletes, winning six gold medals, two silver and one bronze. A social worker, Janet MacFarland, introduced Claiborne to the Special Olympics, where she went on to compete in six world games. Additionally, she is an accomplished marathon runner, having completed 26 marathons and finishing in the top 100 women's finishers in the Boston Marathon twice.
A black belt in karate and speaker of four languages including sign language, Claiborne received the Arthur Ashe Award for Courage in 1996. Since then, she has continued to compete in marathons and the Special Olympics and was the subject of a biopic "The Loretta Claiborne Story." In 2009, the National Portrait Gallery commissioned a portrait of Eunice Kennedy Shriver, the founder of the Special Olympics. In the painting—the first picture in the National Portrait Gallery that does not depict a U.S. President or First Lady—Kennedy Shriver appears flanked by four Special Olympics athletes, including Loretta Claiborne.
Today Claiborne is a motivational speaker and advocate. She is currently visiting schools and organizations on behalf of the "Spread the Word to End the Word" campaign, talking about her disability and explaining how the words "retard" and "retarded" have caused disabled people pain and misunderstanding for decades. She continues to be a tireless champion and inspiration for disabled people around the country and the world.
Catch the 18th annual ESPY Awards ceremony live on ESPN from from Los Angeles, Wednesday July 14th at 9 pm EST. For more information see: ESPN.com
---