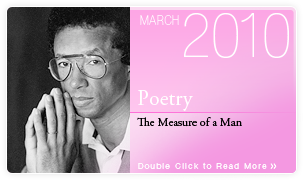 The Measure of A Man
by David Paul Morgan
Leaders are born to all
        shapes
                sizes
                        colors
They often lead or are the object of our parades,
our worship, our undying (and unrelenting)
adoration
They
run for President,
lead us into war,
Motivate……..infuriate…….and arouse the masses.
They are mayors
and governors
and athletes,
Champions,
like you.
But you set a new standard,
For the measure of a man.
A measure not taken by inches or yards,
or meters or miles,
You're not
John Wayne leading the Green Berets
or
  Clint Eastwood, riding into a pale sunset.
You're not Martin,
or Jessie or Malcolm or Medgar,
You are just
you,
Quiet…………Dignified……….but most of all……..Compassionate,
the true measure of a man.
You have changed the lives of,
and touched
many,
though they didn't know you………nor you them,
And the annals of history may not exalt you like a
        JFK
                RFK
                        FDR
Nor Winnie…….or Nelson…….Tutu,
But blessed are those
                                Who benefited,
                                            Who were touched by
Your compassion,
The true measure of a man.
---