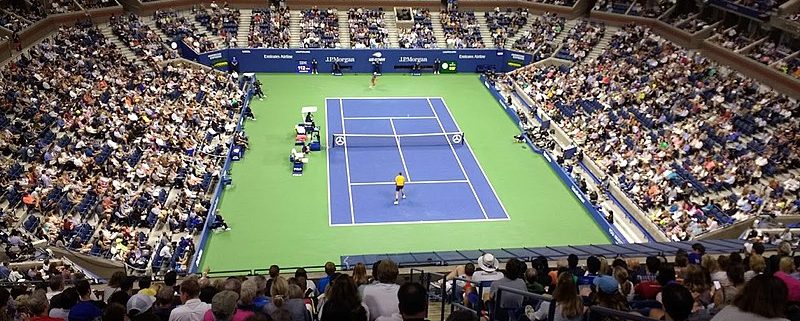 By Patricia A. Turner, Ph.D.
Fifty years after then-amateur Arthur Ashe defeated his far more experienced opponent Tom Okker to became the first African-American male to win the US Open, Naomi Osaka, part of a new generation of tennis professionals, defeated Serena Williams to become the first Japanese player to  win the women's final.
It seems likely that Osaka's win will forever be framed by vexing caveats rooted in the match, in particular the penalties the chair umpire imposed on her opponent. The fact that Williams' violations—which she as well as many tennis authorities who are likely to be more objective have questioned as unfair—will be documented. Even if her coach indulged in inappropriate coaching, apparently this is common practice and players are rarely penalized for it. Her subsequent smashing of her racket and verbal confrontation with the chair umpire are behaviors that have not yielded equally harsh penalties for other players.
The match was played in Arthur Ashe stadium in a much-touted anniversary year when fans could buy Le Coq Sportif T-shirts graced with Ashe's visage or put on virtual reality headsets to take them back to 1968.  In his autobiography Days of Grace, Ashe recalled his years of coaching in the Davis Cup and the challenges he faced grappling with the "bad boy" behavior of young white male players such as Jimmy Connors, John McEnroe, and Ilie Nastase.
Raised in an era when African-American parents drilled into their offspring the necessity to hold their tempers and conduct themselves above reproach, Ashe had never shown any visible frustration with his opponents or referees. But in Grace he noted that his inability to hold McEnroe and others in check may have stemmed from a bit of dismay that as a black player he could never have assumed that such truculence would be tolerated.
Fifty years later, it certainly wasn't tolerated by Williams.  She was cut no slack whatsoever by the chair umpire.  Maybe a white male player would have been treated exactly the same way, but such players have certainly got away with worse behavior in the past.
Ashe would likely have bemoaned Williams' fate but he wouldn't have been surprised by it.  He might have pondered why she didn't sublimate her emotions as so many blacks shackled by the "firsts" titles have done in the past.  He would also have been aggravated by the persistent need for blacks to have to assume that any transgressions will be punished.
But I think Ashe also would want to erase this context from Osaka's win.  She, like him, was the underdog in this match.  Just as virtually every black American was rooting for him in 1968, Osaka was the great hope for so many Japanese people in 2018.  Her ascendency to the final had been unlikely, and her semifinal match against Madison Keys even bore some similarities to Ashe's against Clark Graebner.  He would have been dismayed that she was deprived of the complete joy he and his family experienced on September 8, 1968, as his brother Johnnie watched from Vietnam while their father was with Ashe in Queens.
In 2068 the US Open will celebrate its 100th anniversary, and by then—in my best case scenario—Williams and Osaka will each have won additional Grand Slams and Arthur Ashe's name won't be the only black male to have won the US Open and Wimbledon.
Patricia A. Turner is Dean and Vice Provost of Undergraduate Education at UCLA where she oversees the Arthur Ashe Legacy Fund.  She currently teaches a course on understanding the second half of the 20th century through the life of Arthur Ashe.