First Pitch: Commemorating Baseball Legend Leroy "Satchel" Paige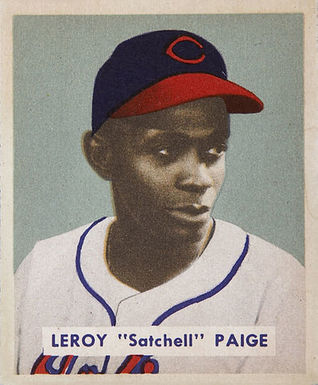 Leroy "Satchel" Paige's baseball card
Today in 1906, baseball player Leroy "Satchel" Paige was born. Despite being born in a time where black athletes were restricted from the Major League Baseball (MLB), Paige gained fame for his relentless pitching and his infectious charisma as a team player, eventually helping to break the color barrier by becoming the first black pitcher in the MLB and the fifth black player. Hailing from a modest background, Paige grew up in Mobile, Alabama, where his mother was a washerwoman and his father a gardener. The nick-name "Satchel" comes from Paige's younger years, where he earned spare change by carrying around luggages for businessmen on a pole, acquiring the name Satchel-boy because he, as his friends would later say, "looked like a walking satchel-tree."
The distinguished baseball player started his career in the 1920s, after being dismissed from Industrial School for Negro Children in Mount Meigs, Alabama. During the years Paige spent in reform school, Paige recalled, "You might say I traded five years of freedom to learn how to pitch." Under the mentorship of Edward Byrd, the school's baseball coach, Paige started on his lifelong journey of playing baseball, first playing for the semi-pro Mobile Tigers. He eventually moved up to the Negro Leagues as a pitcher for the Chattanooga White Sox where he started generating attention from local newspapers for his legendary strikeouts. From there on, Paige moved around in search of a better paycheck, switching teams a total of eighteen times throughout his career. At one point he played for the Cuban and Mexican leagues as well as in the Dominican Republic.
Among many techniques, Paige was known for throwing incredible fast balls and his infamous "hesitation" pitch. His arm and constant switching of teams for opportunities landed him a spot on the Cleveland Indians on July 7th, 1948 at the age of 42. That summer Paige went 6-1 with three complete games and a 2.47 earned-run average, helping the team to the World Series that fall. Arthur Ashe recognizes Paige's historical debut in his three-volume history of black athletes, A Hard Road to Glory. Ashe states that Paige "fulfilled a lifelong wish to play in the [World] Series in the game from which he had been barred all his life." Paige's role in breaking the color line in baseball is not quite as well known as others, such as Jackie Robinson, but he remains singular as the first black pitcher, especially considering that there are only 14 black pitchers in the league today. He was inducted into the Baseball Hall of Fame in 1971, the third black inductee behind Jackie Robinson and Roy Campanella.
Although Paige's accomplishments playing for the MLB and Negro Leagues have been recorded, his time barnstorming and traveling around to stage exhibition matches served to be the detriment of his career because many of his achievements were not recorded. During this time, Paige travelled across North America, from California, Maryland, North Dakota, Cuba, Dominican Republic, Puerto Rico, and Mexico. Currently, there is no active record available of his statistics, making much of the player's story lost. In Paige's autobiography Maybe I'll Pitch Forever: A Great Baseball Player Tells the Hilarious Story Behind the Legend, published in 1962, he jokes how one of his only regrets was not being the first black baseball player in the MLB. Paige believed himself to be the one who sparked the discussion on integration in the MLB, but he kept his feelings to himself and admitted that Robinson was "the greatest colored player I've ever seen."
While much Paige's history remains obscured, he is remembered as the first black pitcher in the MLB: a legend who stood out for his support of inclusion and integration on the baseball field.
For more information on Satchel Paige, visit:
---