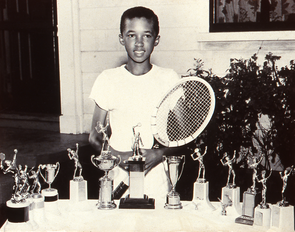 Young Arthur Ashe, he was coached by Dr. Johnson. © AALC, Jeanne Moutoussamy-Ashe
Decades ago at 1442 Pierce Street in Lynchburg, VA, a physician was quietly making history
in the two-story house
and adjoining tennis court. The man was Dr. R. Walter Johnson, nicknamed "Whirlwind" from his career as a college running back, and on that court he introduced many African-American youths to tennis.
Althea Gibson, one of his students, would become the first black person to win a Grand Slam tournament when she triumphed at the French Open in 1956 (she would later go on to win both Wimbledon and the US National Championships two times each). In 1953, he took on Arthur Ashe as a pupil and became his lifelong coach.
 
However Dr. Johnson's goal was not to create champions, his true passion was to share the sport of tennis—and the valuable life lessons it teaches—with the African-American community. He advanced this as a leader in the American Tennis Association (the black counterpart to the precursor to the USTA, which was whites-only at the time), founding the Junior Development Program, and by encouraging black colleges and universities to develop tennis teams.
 
He also devoted numerous hours to teaching tennis. During the summer he ran a camp where students such as Ashe not only practiced their skills, but also stayed with him and his family: eating healthy meals, watching tennis footage, doing chores around the house and learning etiquette. Living and operating in the segregated south, he was well aware of the prejudice and danger his students might encounter and the importance of how their behavior. As Ashe notes in Days of Grace, Dr. Johnson "insisted that I be unfailingly polite on the court, unfalteringly calm and detached, so that whites could never accuse me of meanness."
 
Dr. Johnson helped gain acceptance for black tennis players into all-white tournaments, such as when Ashe became the first black player admitted to the Maryland boys' championships in 1958. He was recognized for his achievements posthumously when he was inducted into the International Tennis Hall of Fame in 2009.
 
Having been unoccupied for over a decade, today 1442 Pierce Street is in ill-repair and the clay tennis court is overgrown. But Dr. Johnson's grandchildren are working to change that, having just formed the nonprofit Whirlwind Johnson Foundation. The goal of the organization is to restore the house and tennis court and establish a museum in the building. It would commemorate the legacy of a man who, although he is not necessarily well-known, gave much of himself to advance civil rights and educational opportunity in the African-American community, the outsized effects of which have rippled across the world.
 
To learn more about Dr. Johnson and the efforts at 1442 Pierce Street, visit The News & Advance
To learn more about The Whirlwind Johnson Foundation, click here.
---