National Hispanic Heritage Month is a time to celebrate the accomplishments of Hispanic and Latino Americans across all fields and as that period comes to a close, it is important to look at their significant contributions and influence in tennis.
Within the sport, there have been many who have challenged the establishment and, in doing so, have created lasting change. Take Arthur Ashe for example: Ashe's example helped open not only the sport but many other opportunities to millions of African-Americans. In that same way, Hispanic-American athletes have been responsible for furthering the game of tennis. Two wonderful examples of such athletes are Pancho Gonzales and Charlie Pasarell.
 
Ricardo Alonso González, known as Pancho Gonzales, was born in 1928 to Mexican parents who emigrated from Chihuahua. The eldest of seven children, Gonzales belonged to a working-class family. Receiving his first tennis racquet at the age of 12—a fifty-one-cent racquet given to him by his mother—he was largely self-taught and rose to be widely considered as one of the best players of all time. Though his youth was wrought with numerous legal offenses, Gonzales joined the army towards the end of World War II and was given a bad-conduct discharge in 1947.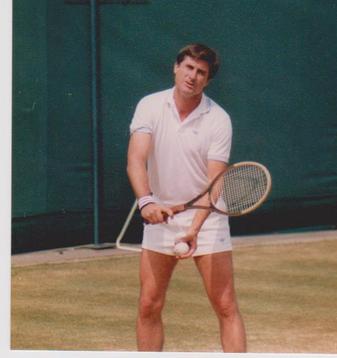 Gonzales experienced significant success on the amateur tour, winning the United States Championships (the precursor to the US Open) in 1948 and 1949. His initial transition into the professional circuit however, did not bring the same success—he held a 26-97 record at the end of 1950 and was barred from playing from some of the major tournaments in which he had previously participated. Nonetheless, Gonzales continued to persevere and successfully competed in numerous international tours, slowly but surely rising to the top of the game in 1952. Between 1954 and 1961, Gonzales went on to establish himself as one of the most dominant players that the game has ever seen, winning the United States Professional Championships eight times, the London-based Wembley professional title four times, and the Tournament of Champions three times.
Charlie Pasarell, Ashe's former doubles partner, UCLA teammate, roommate and lifelong friend, was born in San Juan, Puerto Rico on February 12, 1944. Known for the fluidity of both his serve and strokes, Pasarell succeeded on both the singles and doubles circuits, winning a multitude of titles on each. During Wimbledon in 1966, Pasarell actually faced Gonzales and lost to him in what was—until Mahut and Isner surpassed the record on the same ground in 2010—the longest tennis match ever played, solidifying his place in the record books. He was also heavily involved, along with Ashe, in the inception of the Association of Tennis Professionals and has remained an integral figure in the organization following his exit from the men's tour in 1988, at the age of 40.

​Post-retirement, he helped develop and build the prestigious BNP Paribas Open in Indian Wells, and was elected to the UCLA Athletics Hall of Fame and International Tennis Hall of Fame in 2012 and 2013, respectively.
---