Louis Armstrong – Influential Jazz Entertainer and Queens Local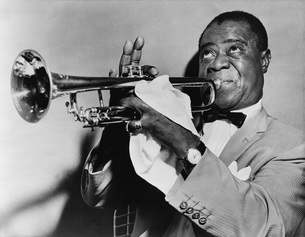 With new developments at the USTA Billie Jean King National Tennis Center at Flushing Meadows-Corona Park, there is a lot to be excited for. There are construction projects to upgrade the Center that will allow spectators to enjoy an even better time at future US Opens. One tremendous upgrade will be the roof over Arthur Ashe Stadium, set for completion next year. Another anticipated enhancement for the Center is the upgrade of Louis Armstrong Stadium, which will get a modernized facelift and roof as well and is set to open in 2018 just in time for the 50th anniversary of the US Open.
Louis Armstrong Stadium has been a

n endearing part of the fan 

experience for decades. Before Arthur Ashe Stadium was completed in 1997, finals matches were played in Armstrong Stadium. Just this past week it was filled to capacity daily with spectators vying to get in and watch a match, such as the epic battle between Andy Murray and Kevin Anderson. Interestingly,
 Louis Armstrong Stadium was named after the influential jazz musician who lived not too far away in Corona, Queens and does not have anything directly to do with tennis. He was a multi-talented musician and band leader particularly known for his innovative trumpet and singing talents.
Louis Armstrong was born in the summer of 1901 in New Orleans, LA. He had a difficult childhood and had to leave school in the fifth grade to begin working. After a mishap with the law, he was sent to the Colored Waif's Home for Boys where he was introduced to music. When he was released, he worked odd jobs to survive and at the same time gained a reputation as a musician. Like Arthur, his young gifts and passion were recognized and  Joe "King" Oliver, one of the great local cornet players, chose to start mentoring him.
Louis Armstrong gained prominence in the Jazz age of the 1920s. He went from subbing for Oliver to replacing him in his band. Eventually, he was able to move north and play as entertainment on riverboats. It was here where he perfected his skills and mixed with other jazz legends. Armstrong gained popularity in major cities like New York and Chicago and began making records under his own band name, Louis Armstrong and His Hot Five. His recordings at this time would help evolve jazz to a soloist art form.
Louis Armstrong was a charismatic individual with stage presence. Though some critics at the time gave him racist reviews, he remained a popular entertainer appearing in movies, recording pop music and touring internationally. He was able to set a few precedents like being the first African-American to be featured in a major Hollywood film and the first African-American to host a national sponsored radio show. Armstrong toured well into the '60s, traveling despite some health concerns. He suffered a heart attack in 1959, after which he recovered and continued performing.
He continued to record as well, recording his one of his most famous songs,
"What a Wonderful World," in 1967. This classic highlights Armstrong's unique vocals and was intended as an optimistic vision of the future in response to the contentious and violent Civil Rights' battles of the '60s. Armstrong passed away a few years later in 1971 in his sleep at his Corona home just after promising to perform one last time. Seven years later, not too far away from where he passed away, the main stadium at the US Open was named after him to honor his life and outstanding contributions.
To this day, his impact on the musical world still endures. 12-year-old jazz prodigy and AALC Inspiration Awards Performer Joey Alexander credits him as his earliest memory of music in an interview. He mentioned that his "
dad had me listen to Louis Armstrong when I was in my mother's womb. That's what they told me."
If you have a chance to get on the tennis grounds, you can pay homage to stadium before it received its facelift in 2017. Take a deep breath, enjoy the atmosphere and appreciate that it is a wonderful world.
You can visit his Queens home, which has been preserved as National Historic Landmark by the City of New York. For more information, please visit their site at https://www.louisarmstronghouse.org/
For more information on Louis Armstrong you can visit the PBS site on him at
:
http://www.pbs.org/jazz/biography/artist_id_armstrong_louis.htm
---