© AALC, Kristina Joyas
The 20th Annual Arthur Ashe Kids' Day–filled with 
fun, entertainment, and of course, tennis–
kicked off this year's US Open this past Saturday and it was definitely one to remember. 
With the grounds open to the public, t
he USTA Billie Jean King National Tennis Center 
was bursting with excitement as children enjoyed free activities such as face painting, hair beading and braiding, and storytelling. There were balloon animals, jugglers, and musical entertainers all over the tennis grounds.
In the morning, musical acts such as Sweet Suspense, Alessia Cara, Carson Lueders and Forever In Your Mind performed live at the Hess Festival Stage for attendees.
---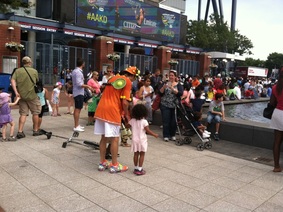 Some kids were able to catch their favorite tennis players in action watching them at the practice courts, where they could sit and observe what it takes to make it as a world class athlete. For those inspired to get active, there were various stations with tennis games. At the 10 and Under Tennis courts USPTA-certified teaching professionals worked with youth practicing serves and improving hitting skills. The IBM Speedzone was there to test hitting power and over at the Xerox Beat the Pros Challenge you could play with some of the top touring and teaching pros in the world! Still others opted for the Wilson Burn Challenge or the US Open American Express Fan Experience. 
---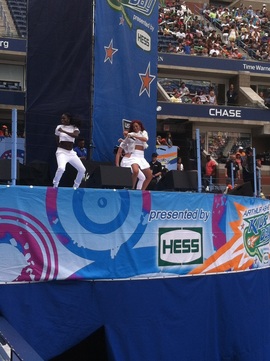 After the free festivities, the Arthur Ashe stadium opened for the stadium show, featuring today's hottest artists and top tennis pros. B
etween performances from American Authors, Natalie La Rose, Jacob Whitesides, Kalin and Myles, and Bea Miller, concert goers got to see some NJTL youth show off what they've learned in the tennis program alongside
 tennis favorites like Marin Cilic, Novak Djokovic, 
Roger Federer, 
Rafael Nadal, and Serena Williams.
The kids hit targets to raise money for charity in the Xerox Challenge and 
played a little one-on-one with Djokovic
. After the no. 1 ranked male lost a few games to the NJTL kids,
 host Shaun T
got 
Djokovic 
into the groove by 
teaching him some cool dance moves to help his footwork. 
When Arthur Ashe was growing up he focused on more than just tennis. He learned from his mentors the importance of working hard and always learning, whether in school, sports, or life–a value he held dear for the rest of his life. He believed in investing in youth and AAKD is a wonderful outgrowth of his legacy promoting tennis, education, healthy activities, and family fun. 
Proceeds from Arthur Ashe Kids' Day benefit the USTA Foundation which helps fund the National Junior Tennis & Learning Network (NJTL), a nationwide group of more than 500 nonprofit youth-development organizations that provide free or low-cost tennis, education and life-skills programming to more than 225,000 children each year, founded 45 years ago by Arthur Ashe, Charlie Pasarell and Sheridan Snyder.
---
Also that day, the Arthur Ashe Learning Center opened our booth to distribute educational brochures, activity books, crayons and stickers to all the young visitors. The children's activity books focus on healthy activities, sports, education, and tips to become engaged in your community. These are available throughout the US Open – so if you're on the grounds come visit!