Serena Williams Revels In the Glory of Golden Slam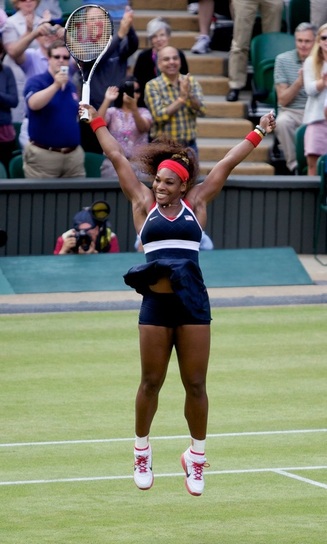 © Kacir, Williams jumping for joy after defeating Maria Sharapova at the 2012 Olympic gold medal match.
It should come as no surprise that the No. 1 ranked woman in tennis is American Serena Jameka Williams. Since she became the world No. 1 for the first time in 2002, she has won a series of titles in both singles and doubles: 10 Australian Open titles, five French Open titles, 12 Wimbledon titles, nine US Open titles and three Olympic gold medals. Williams is regarded as the greatest female tennis player of all-time by commentators and other tennis players. 
As invincible as she has appeared most of the time, Williams has certainly experienced ebb and flow in her career. Due to injury, she had to retire from a semifinal match at the Medibank International Sydney as well as withdraw from the 2002 Australian Open. Yet, she made a triumphant return at the 2003 Australian Open where she recovered from being down 5-1 in the third set and saved two match points. That same tournament, Williams won her fourth consecutive Grand Slam tournament final facing off against her sister Venus, thereby becoming the sixth woman in the open era to achieve a Career Grand Slam. This feat of glory was described as the "Serena Slam" in the press.
Williams is not just the world's best tennis player, but she has become one of the most dominant athletes in history by achieving a "Career Golden Slam" – an honorary title bestowed upon a player who wins all four Grand Slam tournaments and the Olympic gold medal during his or her career. She is the only tennis player – female or male – who has won a Career Golden Slam in both singles and doubles.
As marvelous it has already been, Williams may not have yet reached the culmination of her career: this year she has been doing very well, winning the championship at all three Grand Slam events. If she triumphs again at the 2015 U.S. Open, then she would not only achieve her first-ever calendar year Grand Slam but it would also be the first Grand Slam sweep in almost thirty years. The most recent player to win all the Grand Slam singles titles in one year was Steffi Graf in 1988. Rod Laver is the only player in tennis history to win all four major singles titles in the same year twice, doing so in 1962 and 1969.
In anticipation of possibly witnessing history, demand for US Open tickets has been escalating, according to Championship Tennis Tours. All eyes will be on Williams when the US Open kicks off on August 31st.
---